Steps followed to create Mum's storyline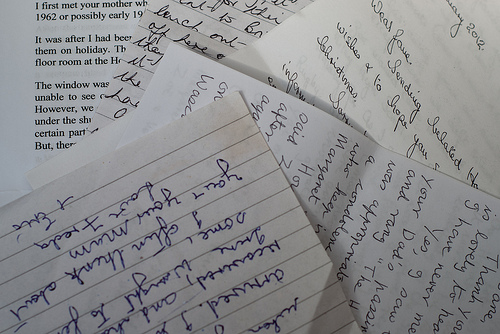 It is Dementia Awareness Week here in the UK, and the focus is "Remember the Person". This makes it feel like as good a time as any to share some of the steps I've taken to get as far as I have done with my Mum's storyline project. My Mum is not capable of helping me with this, so I have to work from my memories, her diaries, other items she had kept, and thoughts from her friends.
This started off as something for her, and for her carers to use with her, so that they could know more about her as the person she once was. What I hadn't been prepared for was how big an impact it would have on me. How much I've enjoyed rebuilding bits of Mum's personality and character and how fascinating I've found revisiting her diaries and notebooks.
Here are the steps I've taken so far:
1) Got all the slides and photos I found when emptying the family home scanned by Click2Scan.
These were then imported into a separate iPhoto library. They are far from sorted, but the use of the facial recognition has been helpful, and I've spent some hours working through photographs transferring the notes from the back of photos into meta data within iPhoto. I've created a few photo books (via blurb) from these - one of my early childhood, one of Mum and Dad's wedding. Mum's key worker has subsequently done something similar for a relative of hers, which I take as a testament to this being a good idea.
2) Wrote to some of Mum's friends to ask them for their contributions.
I've made the letter I sent available as a pdf here in case anyone needs an idea of what to send. Mum was an only child, as am I, so there are a lack of siblings to provide background. My results from sending these letters were varied, but two of her friends replied at length with full histories and a great wealth of stories I could use. One sent a batch of (mainly unannotated) photos and two of her former work colleagues sent photos and remembrances as well.
3) Took a first stab of what the chapters of the storyline would be.
This I blogged about in February. To date I've completed chapters on Houses (the places where she has lived), Schools (the schools she attended, the reports she got etc), Family, Music (a big part of her life - choirs, shows etc) and I'm currently working on a chapter about her working life. As I've looked through the information I have to hand, some areas that were originally thought to be small have a lot of detail behind them and so have become chapters in their own right (Music is an example of this)
4) Started categorising the information I was finding so that I could get it when I needed it for the story.
I have used evernote to capture all of this as it provides good search-ability, and tagging. I have created a notebook for Mum's storyline and have then used tags for each of the chapter ideas, and one for the decade and the exact year. Letters from her friends have been transcribed and entered in whole, and in parts - i.e. one friend shared stories about holidays and church - both of which are to be separate chapters, so they've been broken down into the relevant paragraphs and stored against the appropriate tag.
5) Created postcards from some of the photos
Because I live a long way from my Mum I don't get to see her that often. The weeks when I don't see her I send her a postcard, here are batch 1 and batch 2.. These allow me to write a bit about the photo, and a bit about my week. Her carers like getting them, she seems to like getting them, and I like sending them.
6) Wrote and printed the storyline out chapter by chapter.
As this is quite a lot of work, I've been taking up a chapter at a time to leave with Mum. The last time I visited I couldn't find the folder, so I suspect next time I go I'll reprint everything I've produced so far and take a full set back up. Currently this is just printed out using our normal A4 inkjet printer. Eventually I'd like to get it bound properly, but I feel like I'm quite a few chapters away from having something that feels complete enough to do this.
That's it so far.
Somebody asked me the other day if I thought there was value in doing this kind of work for any parent, regardless of whether they showed signs of dementia. I said yes I thought so. If for no other reason than to have a record of who you are and what your heritage is. It doesn't need to be framed as a "Just getting ready for you to lose your mind" exercise either. If there are small grandchildren, then that is the perfect project to do together - get out the photo album, pick a photo and describe it.
Hopefully this is of use and benefit to others who, like me, find themselves rebuilding their parents lives. If you have further thoughts to add, or other things I could do, please leave me a comment. I'm open to all suggestions.
comments powered by

Disqus