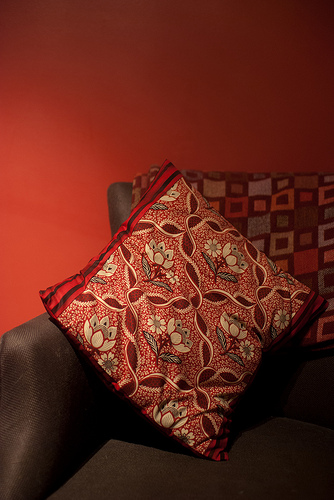 A few months ago a friend, totally unexpectedly, bought me a copy of sew! by Cath Kidston. I took a look through the book at the time and earmarked a few patterns to try out. The first, I decided, should be a cushion cover as I still had one spare naked cushion despite my two recent cushion covering exercises.
I'd decided that this cushion should be colour coordinated with my front room, which as we've seen before with the sofa blanket is reds and browns and so whilst at The festival of quilts in August I picked up a couple of pieces of appropriately coloured fabric. Last weekend I had the opportunity to sew it together. It was a pretty easy pattern and only took a couple of hours all told, so it made a good Sunday afternoon project.
Because of the width of the repeat on the flowered fabric, I had choices to make regarding the balance between the flowers and the stripes. Initially I'd envisaged more of a balance between the two fabrics, but I also wanted to make the most of the flowers. So, in the end I decided that the flowers were the featured fabric, and so there should be 4 full flowers on the front of it. For the stripes I chose identical striped pieces from the fabric and turned one upside down so that the striped sections are identical. The stripes aren't as visible as I'd have liked but they are pretty neat and match well.
For the back I again did an envelope style fastening. One day I'll give zips a try, but that day wasn't Sunday. I decided that as I'd inverted the striped fabric to make the front match, there was no way I was going to get the back panel stripes to line up if I used them vertically. So I flipped the fabric and went for horizontal stripes instead. I lined the fabric up pretty well and it looks acceptably aligned when the cushion cover is empty.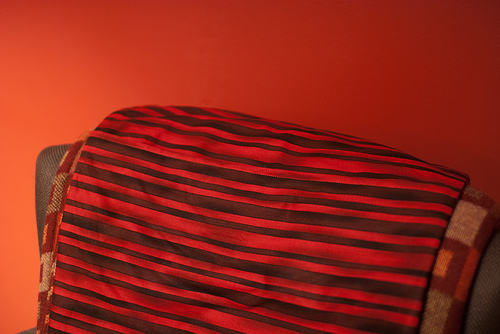 But not quite so good when the cushion is in it as the cushion makes it bulge.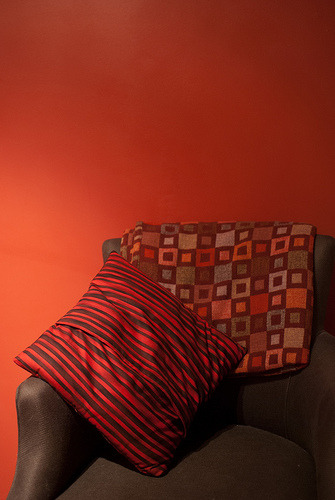 The cushion that is inside the cushion cover at the moment is a bit of a cheap and nasty one. I may yet buy a better cushion inner for it. I feel that it deserves better.
comments powered by

Disqus