I've had 2 pieces of work to blog about in my list for a while, and it was only when I revisited them today that I thought about combining them in one post.
First, the background, my Mum has dementia. She was diagnosed almost 10 years ago, and I've watched her change from an independent, laughing, funny, lively person, to a shell of a lady who can no longer communicate with us, nor recognise us. The 2 artists below have focussed on photographing people with dementia or Alzheimer's and both of them resonate with me.
Firstly, Alex Ten Napel, who has a set of portraits of Alzheimer's sufferers. The original article I saw, showed the following 2 photographs, side by side

M. de Graaff, Amsterdam 1998
When I first saw these photographs I cried. I cried because the face on the right has the same look in the eyes that I see when I look at my Mum. A look of confusion, of fear, of bewilderment.
The second photographer, this time covered by lenscratch, is Gregg Segal. His project is called Remembered: The Alzheimer's Project and focuses more on the displacement of time and memories. He says of his project
For people with Alzheimer's, the past becomes the present. Distant memories shift from background to foreground. To illustrate the past's prominence, I've included it in each picture--in the form of a projected slide image
and
The most wrenching part of witnessing the dissolution of a loved one is that you have them whole in the same moment that they're gone. That simultaneity of have and losing, that nostalgia, is at the heart of Remembered.
For a year or so I didn't really take any photos of my Mum because I didn't want to record her decline, and remember these parts of her life. But 18 months or so ago I started again, and I've now got a few photos of her taken in her residential home. This one was taken last November on one of her better days.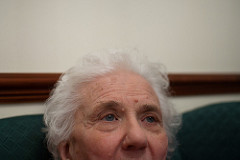 comments powered by

Disqus