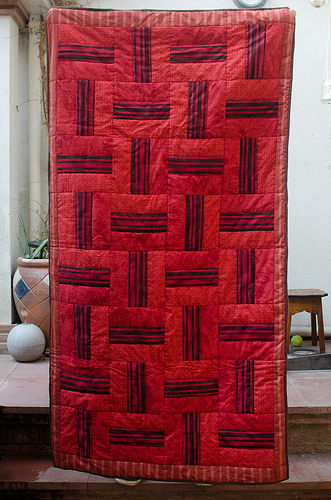 I've made a quilt type thing. It took me many months. But I've done it. And I'm pleased with it. It is far from perfect and there is lots of room for improvement but not bad as a first attempt.
The seat of our sofa is usually covered with some form of fabric. This is to stop the dog from making too much of a mess on it - muddy paws leave muddy paw prints. We used to use some dull brown blanket style throws. But they weren't exactly nice to look at. More recently we've been using a couple of long shawls I brought back from India many years ago.
I'm not sure when the idea first appeared in my head but I decided that it might be a great opportunity to make a quilt type thing. I had some stripy fabric left from making the Sew! cushion so I decided that would be the base. I bought some coordinating fabrics at the Knitting and Stitching show and thought that would all work out.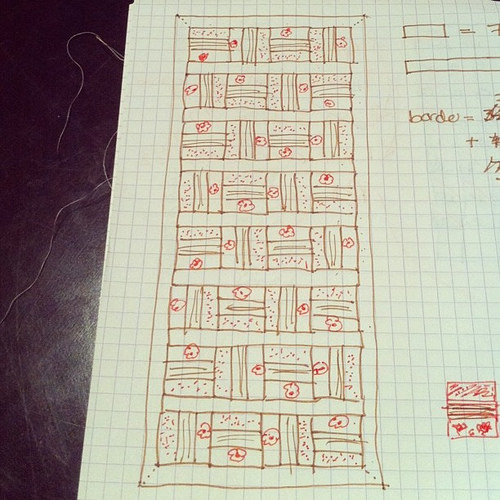 Then I started to plan. And having planned I realised that none of the fabrics I'd bought would be quite big enough. And then I used the brown fabric as the back for the woven cushion.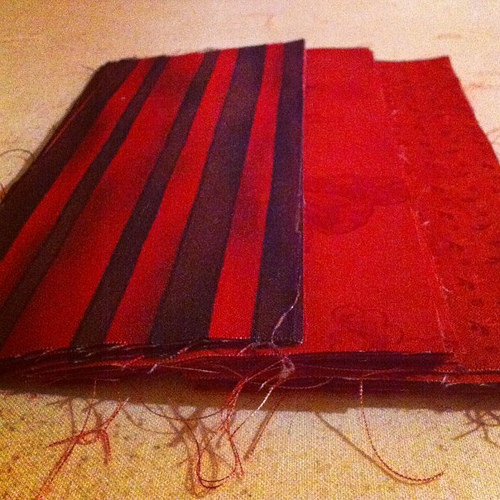 So I headed off to my nearby fabric shops armed with the stripy fabric and picked large enough pieces of two more fabrics. And I was off. Looking on instagram I cut the first pieces on November 2. And did the first bit of sewing a couple of weeks later.
Having sewn 32 squares of fabric, and then stitched 8 rows with 4 squares each I re-measured and had a change of plan. I hadn't been optimistic about my ability to sew straight or even so I'd planned to put some sashing between each row. But I didn't need to for size, and I didn't need to for straightness either. Whilst not exactly being straight, they would do.
So, I started assembly. I seem to remember there being some unstitching when I realised that the pattern I had on my plan didn't match what was in front of me. But I got it all back to where it should be.
I then had a bit of a break whilst looking for fabric for a border and back panel. I ended up compromising and choosing something with stripes on it. Never again! I made a mistake on one of the borders — it isn't quite as noticeable now it's all quilted BUT I KNOW WHERE IT IS! Chalk that up to lessons learned.
Whilst on my quilt break I made some quilted coasters to practice both quilting and binding. These went ok so there were no more excuses.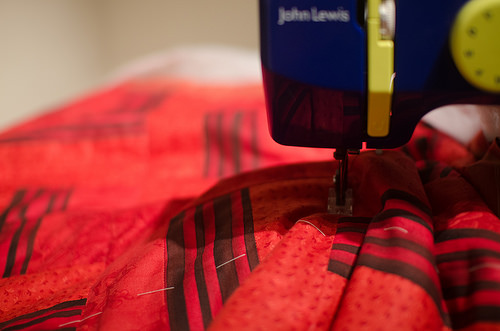 Despite my fear that my poor tiny sewing machine was going to burn out at any moment I enjoyed the quilting process. So what if there isn't a straight line on it.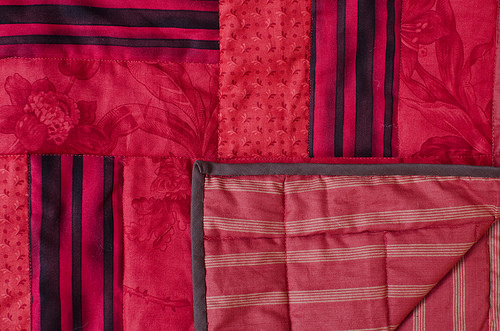 The binding went on well and I finished the reverse of it using the ladder stitch.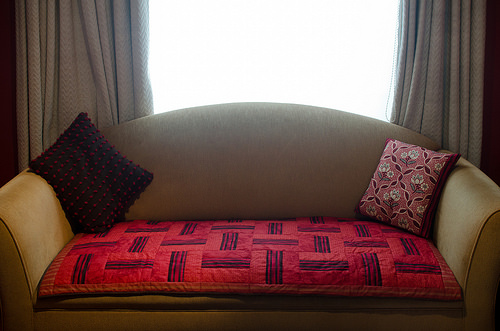 And so here it is. Finished. On the sofa. With my two made cushions for company. It has been on the sofa for about a week now and it is already hard to see the pattern for the dog hair. Still at least there is little chance of anyone looking too hard at the stitching!
comments powered by

Disqus