Patchwork quilted coasters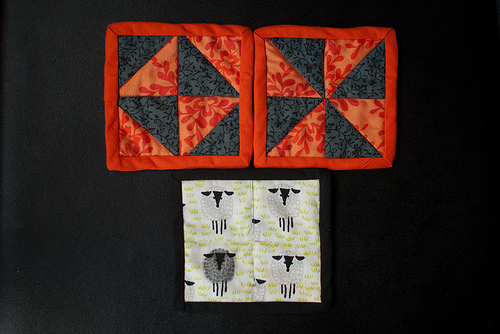 Towards the end of last year, and after having attended the Festival of Quilts in summer, I finally started making my first quilt. It currently consists of a patchwork front piece and is waiting for me to buy some more material and batting, put a border on it, and then assemble it. One of the things that has been holding me back is that I've never done any quilting. Nor have I ever put a binding on to anything. Being a bit of a scaredy coward, and hating wasting things, I decided I'd make some smaller things first.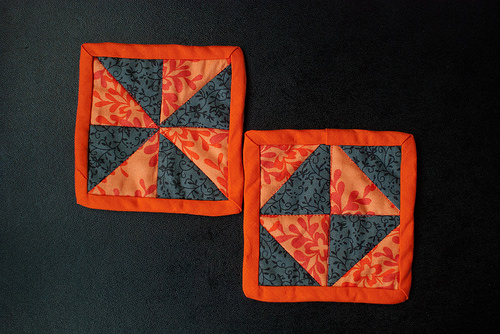 So, I decided to make some coasters. I had some orange binding that I'd bought for a project that didn't happen, and so thought I could do some orange and grey quilted coasters. I decided I'd also attempt my first triangular based patchwork and so did one pinwheel square and one broken dishes square. In both cases I backed them with plain orange fabric and did in the ditch quilting.
Next was putting binding on. I referred to my, getting quite well-thumbed, copy of The Quilter's Bible and followed the instructions reasonably well except for the joining on the first square which didn't end up quite as neat as I'd have liked as it ended up being flat rather than diagonal. I debugged this for the second square. I used the impressively invisible ladder stitch to sew the reverse side.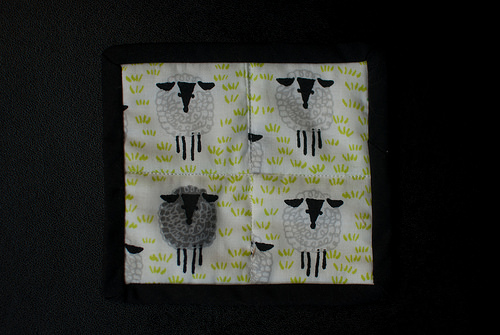 And then, having managed to do these two orange and grey coasters, and having planned a reasonably short notice meet up with a friend (the one I made this for) I thought I'd use some more of that wonderful Ed Emberley sheep fabric to make her a coaster too. Nothing too complicated for this one as I just did simple sheep based squares patchworked together but I did get to use more of my wonderful squirly fabric for the reverse and some more stashed binding.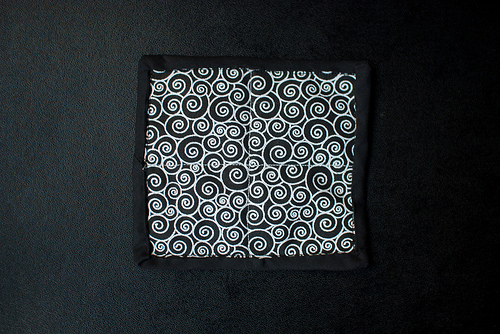 All in all they've come out reasonably well and every piece of fabric and binding came out of my stash too. I guess I now need to get myself to a fabric shop, buy supplies and get on with trying these things out on a somewhat larger scale!
comments powered by

Disqus