Tuesday 1st - GoodGym #17
We still don't have a leader so tonight's task was another Community Task rather than an official mission. We met at Victoria Statue and ran as a group of friends from there to the task which was handy as I didn't have a clue where we were going. After all the rain during the day we were super lucky that it only rained for a couple of minutes just after we left the task. Our task was mainly weeding this evening, so my head-torch came into its own. I'm still a bit in awe of the tidiness of the storage room for garden equipment 😍
Thursday 3rd - 5k post work
After a couple of days of wind and rain I wasn't enthusiastic about leaving the house for a run in the dark. But I was fortunate and apart from a few minutes of drizzle I stayed dry throughout. It would have been very easy to have found an excuse not to go. But I'm glad I headed out. This was my first proper run since adjusting the max heart rate of my Fitbit. Previously the heart ranges had been using the standard formula of 200 - age. When I looked over October's runs my heart rate had hit 187 on a couple of occasions and so I figured 170 was too low. And definitely last week when I was trying to run to keep in cardio mode, it was a real struggle to run slowly enough. Tonight felt much better. I was running at tempo pace I guess, with a few fartleg bits thrown in among the lamposts along the seafront in the home stretch. A fun run!
Saturday 5th - 10k run
When I woke up it was raining. I looked at the weather app and it forecast rain all day, but told me that the current levels of rain were less than what was coming later. So I got up and got out. The first half of my run was a repeat of last week's, but I'd decided to make my way back home through the streets of Hove this week rather than adding in Three Cornered Copse, and so I'd added a few extra loops here and there earlier in the run to make sure I made the distance. When I got to Hove Park the rain started to fall heavier and I saw lots of people getting prepared for ParkRun huddling under trees. I ran on. The heavier bit of rain didn't last long and it was soon just a bit of drizzle. The route worked well. I got to see some squirrels, and the final 3km was either downhill or flat which was good for tired legs.
Tuesday 8th - GoodGym #18
We may have a new leader 🤞 Tonight's task was at Palmeira Square and involved a lot of leaf sweeping around the circuit of the floral clock. It rained and stopped and rained and stopped on a few occasions and I managed to land in a puddle as I ran home. I guess that's what running in Autumn holds for me.
Thursday 10th - 5k post-work run
A dark run following the circuit I've followed for the last couple of Thursdays. I didn't do any lampost fartlek runs today as my right calf felt a little tight, and my left knee had a tiny niggle. So a standard run today. It is a good way for me to leave my working week behind me.
Saturday 12th - see how I go run
As my calf had felt tight on Thursday I didn't want to push too hard today. I'd mapped out a run I've named "Parks and Landmarks" but decided not to commit to that today. Instead I headed off on a fairly standard first 4k - St Ann's Well Gardens, Dyke Road Park - and then made an assessment. My calf was still a bit tight. So I ran back to St Ann's Well Gardens, and then headed off to the floral clock to see how many leaves had built up since Tuesday evening - quite a few - before running through Palmeira Square and Adelaide Crescent and home along the seafront keeping out of the way of the Hove Prom park run.
Total distance: 5.62 miles (9 km)
Monday 14th - lunchtime run
I decided to make the most of a sunny lunchtime and headed off through green spaces ending up running over 5k. I bumped into Tara, who used to run our GoodGym, in St Ann's Well Gardens and so had a quick chat with her, and made an appropriate fuss of her dog. Plenty of squirrels in evidence today. Always a happy sight
Thursday 17th - post work 6k run
Dark and colder than of late. I might need to find a hat to run in as my ears were cold. The rest of me warmed up pretty quickly and I did a variation of the run I've done the last couple of Thursdays. The change was not to run down the dark road which has got roots along its paths which is a combination liable to end in a twisted ankle. Instead I carried on an extra street and ran down a wide and brightly lit more major road. More traffic lights to stop at. But more light. Win some, lose some. I even had enough left in the tank to play with some fartlek lamppost intervals during the last kilometre or so.
Monday 21st - post weekend away (almost) 4.5 miles
We'd been away for the weekend, and after a very wet walk around Petworth had made it back to Brighton by lunchtime. After waiting an hour or so for my lunch to digest I put on my running kit and headed out. I left home about 15 minutes before sunset and so chased the remaining light around St Ann's Well Gardens, Brunswick Square and eventually Pavilion Gardens before heading back home. The run felt good. I wish I'd had a bit more time in the daylight.
Thursday 24th - post work 6k run
In the middle of the afternoon the heavens opened and the rain came down but by 6pm it had passed. So off I went following the route I took last Thursday. I seemed to get stopped at every set of traffic lights tonight, and had to do a diversion around a flooded area of road and pavement. I didn't have the legs to do intervals or fartlek between the lamp posts this evening. It was a good run, and a good end to my working week.
Saturday 26th - Tim's run - parks and Landmarks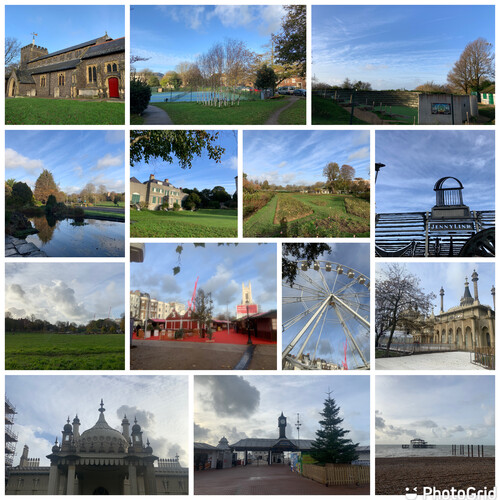 The HealthUnlocked forum that I lurk and occasionally post on is looked after by a set of volunteers. One of those, Iannoda truffe, recently passed away from cancer. Another one of the volunteers, having spoken to Tim's widow, recognised that the community wanted to pay their respects, and so a virtual run for Sunday 27th (or the closed day possible) was organised.
Sunday is a rest day for me, so I went out on my Tim's run today instead.
I'd had the idea of a run linking together Brighton landmarks with parks for a while and today was the first time I attempted it as it seemed a suitable tribute to Tim. And as I stopped to take photos (much to the Nike Run Club app's consternation as it kept telling me "Workout paused" and "Workout resumed" 🤣) I smiled and appreciated the sights.
Distance: 7.47 miles Time: 1hr 34 mins
(This makes it my longest distance and time run ever - Thanks Tim!)
Tuesday 29th - GoodGym #19
Another community task. We were at an older person's centre in Kemp Town again, a place I've been before a couple of times. I spent much of the time breaking up branches and stuffing them into bags. It was a cold evening but the running and garden clearing kept me reasonably warm. Standing around waiting for people was the coldest bit. Another good task with a good group of people.
comments powered by

Disqus