Nobody loves a fairy when she's forty
Last week, according to Mum's diary, it was 30 years since we were both part of a Music Hall show at our local family church. In the show Mum performed a few songs with different people, but she also did a solo comedy turn. She sang "Nobody loves a fairy when she's forty" and dressed up accordingly.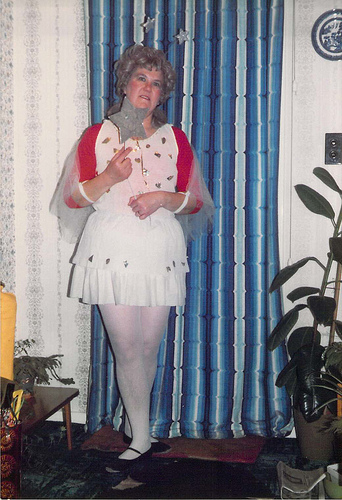 When I chose the photography for the latest set of postcards I included this one because I knew it was something I could describe well. So last week, on the anniversary, I quickly wrote and posted the card to my Mum.
On Saturday, when I visited Mum, I was told by her key-worker that the card had been passed around the office before it got to Mum, and that they'd all had a look at it. This is exactly the kind of reaction I'd hoped for when I started sending these postcards a year or so ago, and I find it so pleasing every-time they mention one of the cards to me. Even if, just for a few minutes, they get a small glimpse of who she was before dementia then that makes it all so worthwhile.
comments powered by

Disqus