My top music choices for 2011
In the category of "better late than never". I've had the graphs sitting on my desktop since the beginning of the year but just hadn't got around to posting them. Following on from last years top music choices here are the graphs for 2011
Top Artists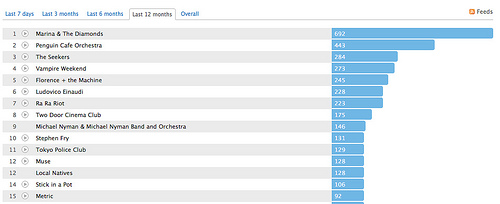 Top Tracks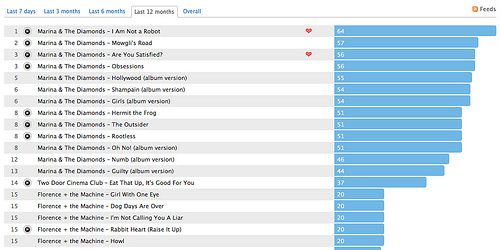 Top Albums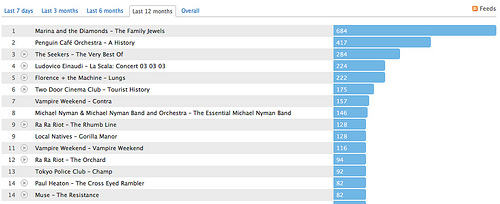 Some thoughts on what this tells me:
I'm not at all surprised to see Marina and the Diamonds at the top. It was on pretty much constantly whilst I was emptying my family home as it was (mostly) uplifting, and had a decent tempo to keep me going.
It's interesting to see Stephen Fry in the Top Artists, and the only reason for that was because his auto-biography, which I listened to as an audio book, was broken into tiny chunks, I'm guessing that there were 131 tracks to it.
It's quite amusing to me to find the Seekers in the Top Albums. This was an album I bought whilst emptying the house as I found a lot of Seekers records amongst Mum's record collection and was curious.
Metric (just), Vampire Weekend, Ra Ra Riot and Muse are still in the top artist lists.
comments powered by

Disqus