My first attempt at Blackwork: an 8 point star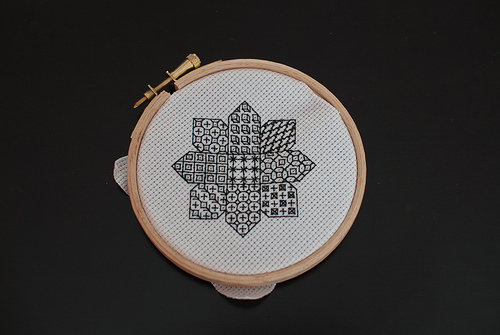 After seeing, and being inspired by, the lovely work by the RSN at the Creative stitches and hobbycraft show I bought a book and a small kit to give blackwork a try.
When I emptied my family home the other year I disposed of Mum's embroidery hoops. At the time I hadn't done anything craft related in at least 2 decades and didn't even conceive of the idea that I might do something in the future. So, once the kit arrived I headed off to C&H fabrics and bought the smallest hoop available (4"). The canvas included in the kit is barely 4" so it has been quite a squeeze to get it even vaguely secured. A little more generosity in canvas size would have been appreciated.
Anyway, having secured the canvas at least in a fashion I was ready to get going. I had a quick re-read of the stitching section of my book and made a start, starting with the centre. My strategy was to stitch each arm of the star in it's entirety before moving on to the next one. Having stitched a few arms of the star I switched strategy a bit and attempted to stitch more linearly, but still within the arms. This was because some of my straight lines weren't as straight as they could be, and I suspect this relates to the thread heading off into different directions. I unstitched the worst area and it does look better. I need more practice to make the back look acceptable though. I had a few head-scratching moments with the final 2 arms, as both of them had half stitches and I couldn't work out how to do them until I realised that I could stitch through the fabric as well as through the holes. I deviated slightly from the pattern in the last arm I stitched, as the pattern didn't look "finished" enough to me, so I made it a bit more regular. In retrospect, I don't think that this wasn't a beginners piece really, but it was useful to have a kit to get me started.
I haven't done any non-sewing needlework since making the last iPhone case and it has been enjoyable, and I've lost hours to it (in a good way). I don't see me doing lots of it though as it has made my eyes tired and spending most days in front of a computer does that quite enough! It could be an every now and again type of thing though.
I've been sketching out some ideas based on the patterns in the book, and this reminds me of my childhood when I'm sure I had some kind of geometric pattern paper that I coloured in. So, probably more, because the patterns and repeats appeal, but infrequently because of the tired eyes thing.
That said, as I currently have just one craft related work-in-progress, and it needs more yarn (annoyingly, I'm on the very last bit but I can't make it stretch - Gah!), and the sun is shining and the light is lovely, I may just go and start a simpler blackwork piece to try out a couple of the patterns from the book.
comments powered by

Disqus