As I mentioned before I've been working on a lapghan for Mum's Christmas present (as it turns out - it was almost ready for her birthday, but not quite) since August. It has generally been a low concentration project done whilst watching something on the TV. Progress has been interrupted by a scarf, and a cowl.
My Mum lives in a nursing home. She has limited movement, but still has the capacity to move her fingers around and worry whatever fabric is nearby. Therefore, one of my criteria for choosing a yarn was that it had to be pretty robust. I originally decided that this meant it would have to be a solid acrylic yarn, but having wandered around my local yarn shop I decided that there was a second, more important, criteria. It had to be pleasant to work with. This became my primary concern as I can always make her another one another year if this one gets destroyed. When I made the rectangular blanket I used Wendy mode DK - a merino/acrylic mix. This was pleasant to work with, and yet wasn't too flimsy, so I simply opted for giving the Wendy Mode chunky a try. Mum's new upholstered wheelchair is a pinkish colour, and originally I thought about making a blanket that was going to match, but as she is 250 miles away from me, trying to pick an appropriate colour was going to be tricky, so I opted for a serviceable grey - Nightfall - instead, for the body. As I wanted this to be robust, I actually used a 6 mm hook for this blanket which has definitely made it a chunky blanket.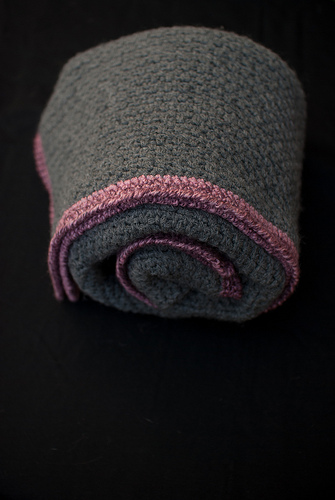 I'd decided that I wanted a simple border to finish the blanket, again to make sure that there weren't many opportunities for her fingers to find gaps in. I wanted a colour that hopefully matches Mum's chair, and so this was one of the items I was on the hunt for when I was at the Knitting and Stitching show. I came home with a huge ball of James C Brett Marble Chunky in the imaginatively named MC26. This was a pleasure to work with. I switched to a larger hook (7 mm) for the border as I know this is where I've struggled in the past, and this worked well and helped me keep to an appropriate tension. As with the baby blanket, I finished off with a round of reverse single crochet, switching to a 5.5 mm hook, again to try and match the tension.
The final dimensions are 31" x 60". It's stitched using woven stitch and this is a perfect stitch for a blanket as it is truly low concentration - you just need to find the single chain space from the previous row - and it works up wonderfully solid.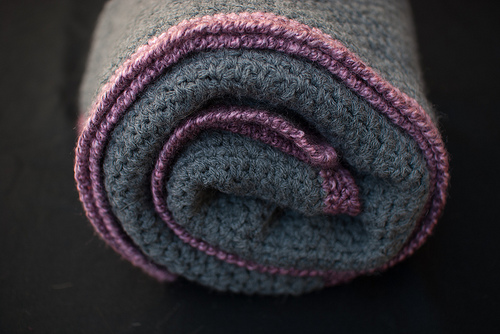 All that remains is for me to sew some name tapes on it for her so that it doesn't immediately get lost, wrap it and deliver it to her. I hope she gets lots of use out of it, and that it withstands whatever abuse it sees.
comments powered by

Disqus