Monday 2nd - Couch to 5K Week 8 Run 1
A 28-minute run. As with last Friday, I decided to not run my usual "up and down the seafront" route and to head off elsewhere. As I wasn't tied to time it didn't matter if I ended up walking for five or so minutes longer than necessary at the end. As it turned out my improvised route left me with only a couple of minutes longer walk, so a good judge of pace and distance today. My calves felt better today. I have noticed that I tend to hold my hands in a strange position, so I need to will them to relax frequently. Interesting. My neck and shoulders didn't feel so much like I was holding them in some tight grip today. So some improvements and some new areas to think about.
Wednesday 4th - Couch to 5k Week 8 Run 2
I went for a run while staying at Champneys. A different experience as I ran mainly around the grounds running laps which were a little bit dull, except for spotting two bunnies, two squirrels and a deer on my circuits. I also got brave enough to follow a public bridleway sign and ran along that for a while to break up the laps a little. So a different run to my normal paths and road experience with interesting surfaces underfoot (damp grass, mud, goose pooh, etc). I loved having wildlife to spot and to listen to as I ran. Something to try and include in my runs. As always pleased to have completed the run, not always doing the run!
Friday 6th May - Couch to 5k Week 8 run 3
The final run of week 8. Three 28 minute runs under my belt. It was a warm morning for a run today, but there was a breeze down by the seafront which I appreciated. I changed my route again and this time headed the other way along the seafront, doffing my metaphorical cap at the statue of Steve Cram as I shuffled past. The final 5 minutes today seemed to take an hour, and I was willing Sarah Millican to release me back to my brisk walk. She finally did.
Tuesday 10th - A GoodGym group run
My longest GoodGym run to date. That is why I didn't do a Couch to 5k run yesterday. I didn't do too badly, but we ran up that killer hill again. At least we got to run down it again at the end of the evening. The 10-minute workout was a tough one today too - lots of leg work, some sit-ups, and planks! I've ended the evening with a bit of an ache in my hip and will need to stretch that out over the next few days so I can crack on with Couch to 5k Week 9 runs.
Friday 13th - Couch to 5k Week 9 Run 1
30 minutes of running. I followed the same route, more or less, as on my birthday and took a slow and steady run to St Ann's Well Gardens - one of my happy places. When Sarah Millican told me that I had a minute remaining I tried to up my pace, but as I did, my right hip started to ache. So I slowed it back down again and finished ache free. I included a lot of green spaces in my run - St Ann's Well Gardens, around the floral clock at Palmeira Square, Palmeira Square and Adelaide crescent, and then ran along the edge of Hove Lawns on the grass rather than along the seafront. Not as much wildlife as when at Champneys, but I did enjoy watching a squirrel scampering away from me, and I made a dog jump as I ran behind it.
Monday 16th - Couch to 5k Week 9 Run 2
A warm day. Back to running along the seafront as that's the most predictable for a lunch break. A 30-minute run plus two 5 minute walks plus 15 minutes stretch and a shower don't quite fit into a lunch hour. So I'm guessing lunchtime runs will need to be shorter once I've graduated from the Couch to 5k programme. The app was helpful giving me five-minute updates as I ran. I found this useful to try and balance my energy across each section.
Thursday 19th - Couch to 5k Week 9 Run 3
A post-work run. Sun was shining. I was pretty slow but there were moments that I enjoyed. I felt pretty good all the way around. And I've graduated from the programme.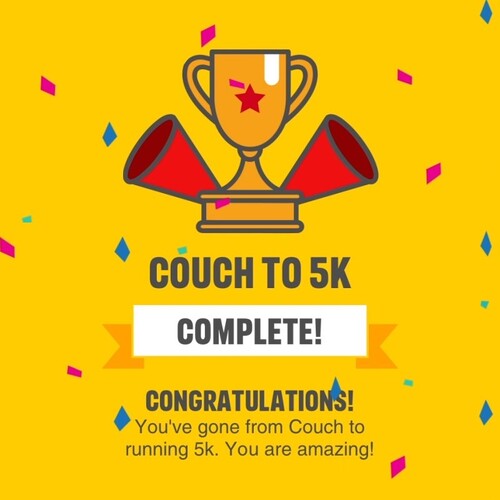 Saturday 21st - Consolidation Run 1
I downloaded the Nike Run Club app after a recommendation from someone on the HealthUnlocked C25K forum. There are a lot of runs to choose from, and I found it a bit overwhelming. I finally found a guided run called "Just a Run". Lots of reassuring commentary about starting a run well, and celebrating starting at all, about thinking about the best run and what made it good, and then, towards the end, about breathing. I headed towards the Marina today - there are fewer places selling bacon sarnies that way to distract me - and I aimed to get on to the new boardwalk. Having got on to it, when Coach told me I was halfway through the time, I carried on a little further to get to the end of the boardwalk as it was a lovely surface. So I didn't make it back to my starting point, but I did enjoy that section.
Monday 23rd - Consolidation Run 2
Another Nike Run Club run - this time the "Today's 30 Minute Run". This was coached with questions about my day, not with things about running particularly. Another lunchtime run - I hadn't hydrated properly, work was being stressy, and it would have been easy to have stayed at my desk. So, today, just getting out and running was an achievement. I took a couple of turns around the park before finishing along the seafront.
Thursday 26th - Consolidation Run 3
Another lunchtime run. And another Nike Run Club run - the "Worst Advice Ever" run. This Run talks about the worst running Advice and why it's rubbish. Quite an amusing background as I ran along the seafront. The festival is still on and so The Riwaq is still in place in Hove, so I ran through that which made me smile. My furthest distance ran today - 4.76km. Pleased with that.
Saturday 28th - Consolidation Run 4
Today's Nike Run Club run was "Run with Headspace". It was labelled as a Recovery Run but I just chose it as a 30-minute run. I did a slightly different route to last Saturday heading up on the road and back along the boardwalk and seafront - saluting at the Steve Ovett statue as I passed by. As with last week's run in that direction, I didn't make it back to the starting point but, again, I didn't have any time pressures and so a long walk back wasn't a problem. I like a round trip run more than a there and back run - the variety is good for me. And today I started with a climb and had a descent at around the halftime mark before a pretty flat run home.
Monday 30th - Consolidation Run 5
Another lunchtime run. Another run that I found a bit of a struggle. I will persist and make lunchtime runs work for me. I did the "Running for more: Success" run today. This didn't make me chuckle as much as some of the other Nike Run Club runs. But that may have been me, not the run.
comments powered by

Disqus