Making flowers on the train
and in a hotel room...
I was in Hull over the weekend visiting my Mum, and I took my flower loom with me to help pass the time. When I visited Mum I noticed that whilst she had a lot of Christmas cards around the place, there weren't any decorations, so I decided to make her some Christmassy flowers (fortunately I'd packed my metallic white cotton). I decided to make 5 of them, and that I'd find some way of stringing them together in her room - I ended up using a piece of cotton and the thumb tacks on her cork board. Here they are before being strung together, in poor light, using an iPhone camera, and using my jumper as a background - not ideal photographic conditions but they're an illustration at least.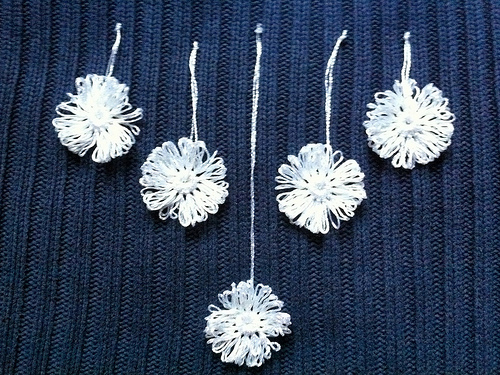 Each of these flowers was 6 rounds of cotton, and then finished off by stitching through the middle and a gap left by the weaving of the cotton for the petals. There was then some backstitching done around the outside before another round of middle to gap stitching.
On the train on the way home I started making some flowers for me, these are the first set that I have an actual planned project for, rather than purely being experimental. Last year I got a grey scarf which is thick and warm, but a bit dull. My intention is to brighten it up with flowers. I'd originally planned to use some of the pink cotton I bought for the first experimental flowers, but then saw and fell in love with these two blues (these are the same brand/range as last time). I made the 4 big ones on the train, and this morning did 2 small ones using the same colours but transposed.
Here's the final small one, still on the flower loom with 2 large ones and one finished small one behind it.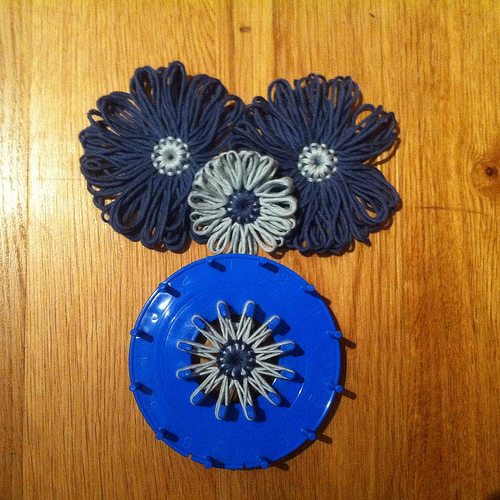 Whilst making these flowers, I've been making use of my Girl Guide knotting skills, by attaching the cotton to the loom by a clove hitch which has worked well, and stopped me having to hang on to it.
So, all that's left is to sew them onto the scarf...
comments powered by

Disqus