A "Little Miss Two" bag for a three year old
Whilst thinking about making Christmas presents for friends, the little girl who I made the hair slides for, and who is the daughter of a very good friend of mind, was an obvious candidate. I had thought about a scarf but then spotted this little bag and thought it was super cute and worth a try.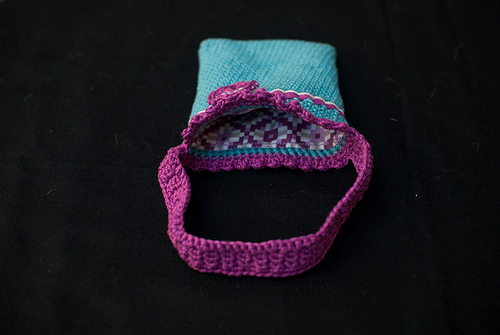 So I bought some Sublime Egyptian cotton DK (she used to have a problem with wool, so cotton made sense), after reading good reviews on ravelry and made a start. And then another start. Despite using a 3.5mm hook instead of the recommended 3mm my first attempt came out very small. So, instead of 20 stitches I went for 26 on my second attempt. I also managed to misread the instructions and merrily crocheted round after round doing a stitch and slip stitch on every round which made one edge of the bag slope outwards. After these false starts all went well. And the Sublime cotton is delightful. Really well plied and not at all splitty. It makes a robust little bag. I may give it a try for weaving too as I think it might hold together ok.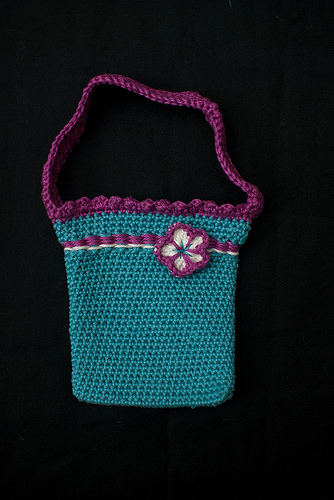 The hardest part for me was the handle, and I'm still not delighted with how this turned out. Another time I might try and weave a handle using the plank loom as I can get a 27cm length from that. I am, overall, really pleased with it though. And the reaction from the people I've shown it to has been lovely as well. It really is a cute little bag, and I'm a bit surprised with how neat it looks. I also like that I managed to get some weaving into it too, as I wove through the eyelets in the two accent colours. The little flower finishes it off nicely, and instead of using a button as per the suggestion, I just used a few stitches in the turquoise colour to make it look like it belonged.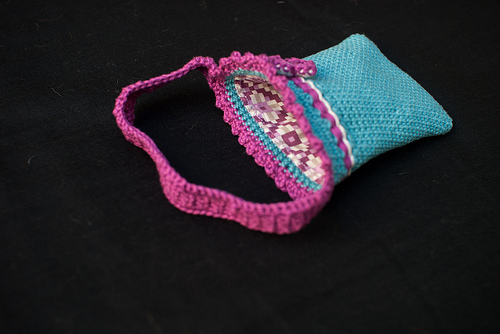 Having decided I was happy with this, I then started thinking about whether I should line it to finish it off properly. And after a day or so's thinking I convinced myself that yes, it did indeed need a lining. A look around the Internet provided me with this tutorial (and it's companion) which didn't seem too intimidating. I took the little bag down to the Brighton Sewing Centre and picked a funky, purpley fabric from their stocks. That was a few weeks ago, and earlier this week I cut and pinned the fabric together, and today I did the sewing bit. As with everything else I've sewn recently, I used a backstitch and successfully made the lining into a small bag. I then took a deep breath, crossed my fingers and pinned it into the bag. It fitted. Phew! I followed the excellent instructions to stitch it in and have to say that I'm absolutely delighted with the result. It finishes the bag off really well.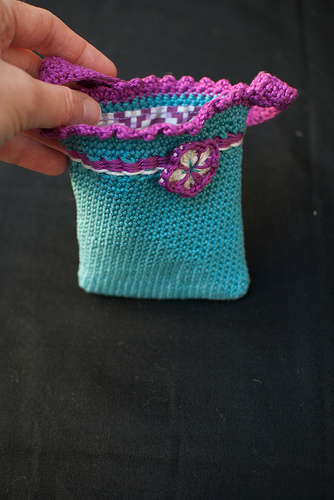 I still can't quite believe that I've made something so cute! Just to finish it all off, I made another couple of sets of hair slides in matching cotton and popped them inside the bag.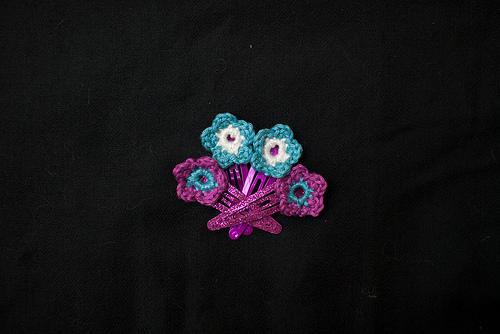 (This is another post written in November when the bag was finished and then held back until post Christmas)
comments powered by

Disqus