Wednesday 1st - consolidation run 6
A run to mark the end of the working week. And quite a fun one it was as well making the most of a couple of local parks. I used another Nike Run Club guided 30-minute run - this time with lovely Mo Farah. I didn't cover as much distance as on my recent seafront runs, but I enjoyed being somewhere a little different.
Friday 3rd - consolidation run 7
A repeat of Saturday's run - towards the Marina taking the road on the way there and the boardwalk and Madeira drive on the way back. I had Nike Run Club's "Morning Run with headspace" in my ears. It was a warm morning with the sun beating down. Brighton was already awake and people were all along the seafront. I pushed it too hard today. I seem to have got my head into a "must do better than last week" mentally ignoring the fact it was much warmer. I caught the sound of my breathing change and so slowed my pace a little but was still exhausted when I finished. I had, however, managed a sub-30-minute 5k. My first in many years. Not what I'd intended to happen but does explain why I found it tough. I have work to do on pacing.
Monday 6th - consolidation run 8
I decided to have a greener run today - so took in a couple of parks. I didn't cover as much mileage, but I had more fun doing it, so I'll take that. I ran at a fairly easy pace today and enjoyed today's Nike Run Club run - I need a win run.
Thursday 9th - consolidation run 9
Very similar to last Wednesday's run - running around parks. No rat this time, but I did spot a happy-looking squirrel. And got to see a bunch of expectant faces at B.O.A.T. waiting for their show to start. Not a fast-paced run, but lots of hilly bits, and a few bits off-pavement and on grass. The guided run I chose today included commentary every 2 minutes which meant I had a lot more idea of timing today.
Saturday 11th - consolidation run 10
I wanted to get ten 30-minute runs under my belt before making any changes. This was the final of those. I didn't make it easy for myself as my route today included a bloody big hill. I've been using the Footpath app to plot out potential routes and realised that Queen's Park wasn't as far away as I thought it was. So that was today's target. When walking yesterday I took a look at the route I'd mapped and realised the size of the hill. When I left the house I permitted myself to do a different run if my legs, or lungs, weren't up to it. But they were. And I did. It was tough though! I ended my run at the pavilion with this view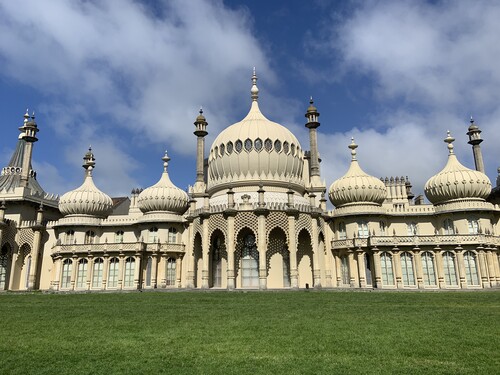 Monday 13th - Couch to 5k+ Stepping stone
Having got 10 consolidation runs under my belt I thought it was time to try a training run rather than just a run for 30 minutes type run. I'd heard good things about the Couch to 5k + runs so thought I'd try the first one. Turns out running to the beat of the music is hard for me. I kept losing the beat. It felt like I was putting in a lot more effort than I normally would. Good to have something challenging, but my hip objected and is a bit achey. Not sure running to the beat of the music is something that works for me. I'll give it another try at some point.
Wednesday 15th
A run after a day in the office. A hot day as well. The Nike Run Club wasn't offering me any guided runs which perplexed me. I could still use the app to give me a 30-minute run which did what I needed. The voice telling me that I was at the different kilometre points was somewhat robotic. But served its purpose. I ran around St Ann's Well Garden and on to Palmeira Square and Adelaide Crescent before running back along Hove lawns. I tried not to over-exert myself given the humidity and warmth, but I still ended up looking like a tomato at the end! I tried a couple of things my Alexander Technique teacher suggested - thinking of lifting my feet, rather than putting them down, and leaning into the run at the ankles while thinking long. I did a better job of the first than the second I think.
Friday 17th - my first deliberate 5K
A hot and sunny morning. A planned route, which I deviated from. A Nike Run Club 5K guided run lined up (they're working again, hurrah!). And off I went. The route I'd chosen wasn't as much fun as I'd hoped. The loop around Hove Rec was lovely, but the plodding along the road to get there wasn't. More parks, fewer roads.
Monday 20th - a 21-minute run
As I've mentioned before lunchtime runs can sometimes be hard to fit in. Today I knew I had a meeting at 2 pm and so didn't have as much time. So I figured a shorter run was called for. As it turned out it was also hot so that was a good idea. My route was erratic as I ran from shady spot to shady spot crossing roads or taking an unusual route around the park as I needed!
Tuesday 21st - GoodGym #4
Back to St Andrew's church in Hove where I did my first GoodGym. I kept up with the group today which felt good. And I could just about keep a conversation going as well. Our task was more clearing up of the graveyard area - a bit of large weed clearance, and some ivy clearance for me. Our fitness session today was 10 minutes of 10 different plank exercises.
Thursday 23rd - a 30-minute run
I combined St Ann's Well Gardens and Dyke Road Park in today's run. A good combination. Lots of time among greenery and no long stretches plodding along the same road. A good route, worth repeating.
comments powered by

Disqus