The words "I can't sew" have passed my lips on numerous occasions. So many times that I'm fed up of hearing them. Time to address that. Currently weaving project #16 (parts 1 and 2) are in my back bedroom waiting to be assembled into an iPad case. The thing that's stopping me progressing? My sew-phobia. I'm worried that I'll mess it up and waste many hours of weaving.
A few weeks ago I spotted this ridiculously easy sewing project and decided that as I have a cupboard full of t-shirts that can no longer be worn (something dyed the white ones a tie-died cream colour - not good) it would be a good place to start. I don't have a sewing machine so I'd be hand stitching the hem.
Yesterday I had some time free, so sat down with a t-shirt, some scissors, some pins, a needle and some thread and got to it. It took me a couple of hours all told, and I'm actually quite pleased with the results. This was partially the reason for starting with something so simple, build up to doing more complicated things bit by bit, and start with something so simple that I couldn't get frustrated and that the echoes from school needlework lessons ("You're too ham handed", "You're no good with a needle") didn't get a chance to arise, and also something that I could complete successfully. I also keep reminding myself that my weaving is all needle and thread based, so I can't be that bad with a needle right?
So here it is hanging from the banister.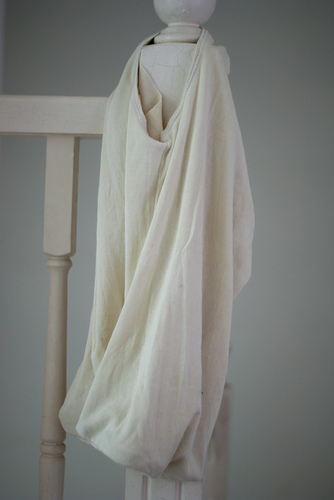 and here is a close up on the bit I actually sewed together. I did two passes using back stitch to try and make it robust. I also followed the t-shirt hem as a guide line to ensure it kept reasonably straight. Not perfect, but not bad for a first attempt. Oh, and I also took it with me to the shop yesterday afternoon and I can confirm it works as a bag too, successfully transporting 4 tins of tomatoes back to the house.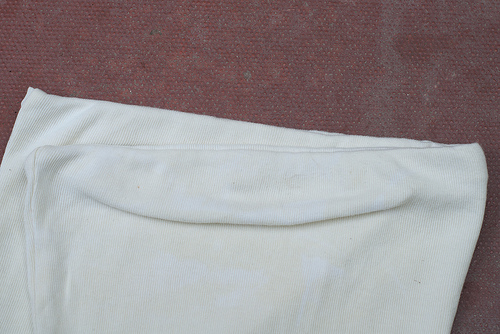 So, now I need a second project that again is simple, won't take too long, and that helps build my confidence a little further. Any suggestions?
comments powered by

Disqus