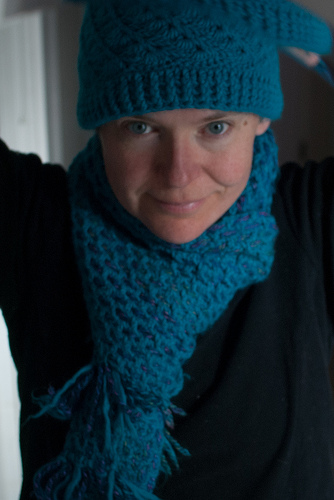 As I still had quite a few balls of the turquoise Garn yarn left (bought from Tiger last year) and had done a reasonable job on my scarf I'd thought for a while that I should make a hat to go with it. With a week away planned and no craft project in mind I thought this might be a good opportunity. I found 3 crocheted hat patterns I liked the look of on ravelry and so printed them out and took them with me. Good job too as there was no internet/mobile connectivity available.
Divine Hat
The Divine Hat had the best ratings and so this is where I started.
I had a couple of false starts whilst I got familiar with the style and terminology of the pattern but then I was off and all told it took less than 5 hours hooking time over 2 days to go from start to finish.
As seems to be the rule with me and hats I had to make some sizing adjustments as I appear to be a tight stitcher. So, to get the hat to a point where it had enough width to fit my, not overly large, head I had to deviate from the pattern after row 13. At this point I did 5 dcs into each space. I did 5 rows like this (so I finished this section on row 18 rather than 16 as per the pattern). This made the depth at this point about 6.25" and the hat feel like a decent fit.
I went back "on pattern" for the end part — tho' I had 90 stitches instead of the patterns 75. This section added a further 1.25" to the hat giving a final depth of 8".
The pattern was easy to follow but I'd have liked to have had an indication of expected depth of the various sections and of the finished hat. This would have allowed me to consider the deviations rather than make them up as I went along.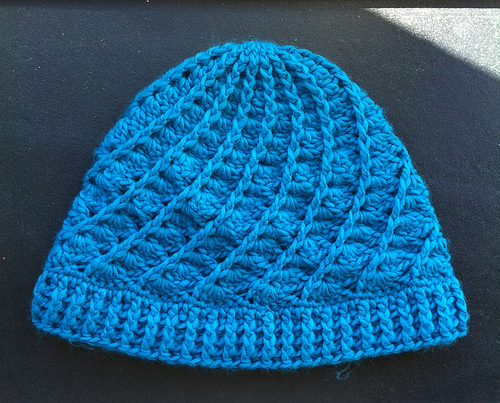 It feels soft and like it will be warm.
Winter trails hat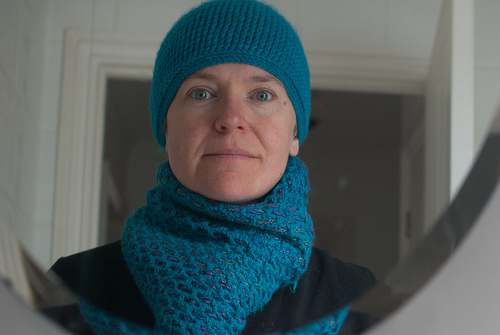 The second of the hat patterns I'd chosen was the Winter Trails hat. It is completely stitched in front post double crochet and it ends up being pretty chunky. It took longer to make than the divine hat — maybe 7 hours hooking time over 3 days. The final hat is quite substantial. It stands up on its own. No need for a head to give it shape.
The pattern was really easy to follow. And this is the first hat pattern I've followed that was simple enough to make into a tv watching project as once the increases are done it's simply a case of repeating the round above.
As always I had to deviate. I followed exactly up to and including round 7. For round 8 I did an extra set of increases (I unravelled to come to this conclusion after realising that unless a miracle was going to happen it wasn't going to fit) making 84 stitches. I then followed the pattern again until round 21. Hooking round 22 felt like it would end up making the hat too deep so I skipped it. I then finished off with the 3 rounds of back loop single crochet as per the pattern.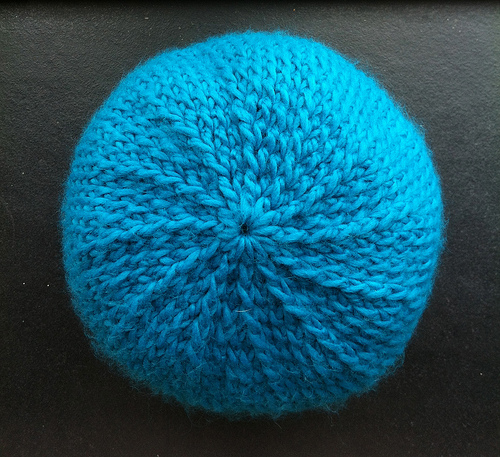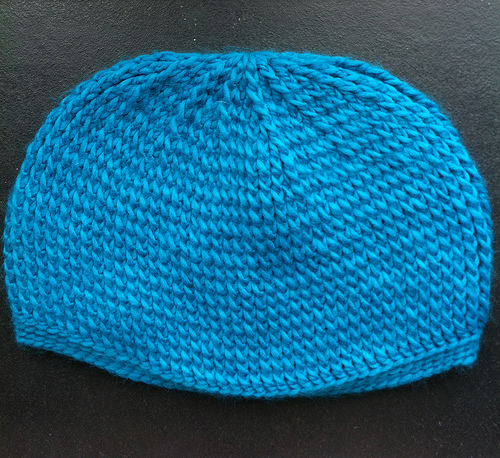 I'm very pleased with how this turned out as well.
Both hats combined took 3 balls of Garn Yarn. At a total cost of £3. All a bit of a bargain really.
Cable-tastic
For my birthday my friend sent me a copy of New & Easy Cable Afghans & Throws from Annie's Attic and as I still had 2.5 balls of yarn left and had brought this booklet with me as an "on the off-chance" thing I thought I'd give one of them a try as a sample. I didn't want to commit to making an entire blanket, so instead of making it 105 stitches wide, I made it 45 stitches - I'd sketched out what the stitch combinations worked out to be in possible dimensions and on execution decided that 45 was wide enough to get an idea of how it'd turn out at a larger scale. I have so far hooked 6 or 8 rows and aren't in love with it at the moment. It seems to be a lot of work for something that doesn't look amazing. In needs more concentration than the other blankets I've made so far, and doesn't seem to be a tv watching project (as it is a combination of front post double crochet, front loop single crochet, and back loop single crochet). It might get shelved. I haven't even managed to photograph it yet.
Interestingly, to me at least, I'm much more interested in crocheting than I have been for a while. I suspect it's a seasonal thing. Next up in my crochet plans is to complete the granny square blanket I've been working on to use up some of my stash — it's almost finished, just a bit of border left to go. Watch this space!
comments powered by

Disqus