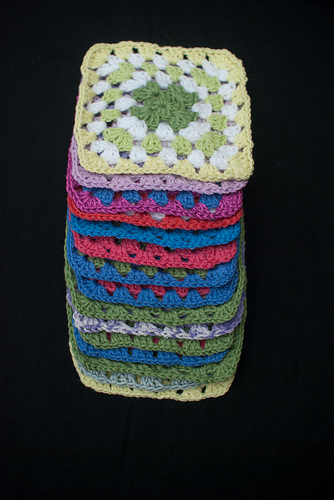 Last time I blogged about granny squares I'd made 5 of them. I've now made 15 in total. I've found them to be very easy things to make whilst watching the tv, or whilst on a train last weekend.
The first set I made, were made with some lovely Amy Butler by Rowan DK yarn that I'd found at C&H Fabrics in their sale. Although this was in the sale, it wasn't cheap enough that making lots and lots of granny squares wasn't going to hurt eventually. So, I followed a friend's advice and headed over to the Kemps Wool Shop site. I know very little about yarns yet, so experimenting with different materials and textures is part of the learning process - especially for the weaving side of things where splitty yarn makes consistency of weft almost impossible to achive. I decided that as the first batch were done using DK, the rest should be too, so I basically searched for any yarns under £2 that were DK, and that no 2 brand/style combinations could be the same. This resulted in me ordering 10 balls of yarn (a mixture of 50g and 100g) which turned up on Friday.
I've now used all but two of them, and my experience has ranged from hate (Sirdar Bonus DK in sunflower yellow - used for squares 11 and 12) to love (Sirdar Snuggly Baby Bamboo in Paintbox pink - used in square 13 - which I found a joy to work with) with a lot of the others being somewhere in between. I still really like the Amy Butler by Rowan ones too, but they're a pretty expensive way to produce Granny Squares. I may give some of them a try out on the picture-frame loom as well to see how they perform in a weaving context.
My plan is to make a blanket out of these squares, it'll be an oddly sized blanket as I have a specific use for it in mind, but it'll be a blanket none the less. I've spotted patterns for quite a lot of variations on the granny square theme, so I'll be trying some of them out as I progress in my learnings.
Just to finish, here's a photo of my favourite one to date.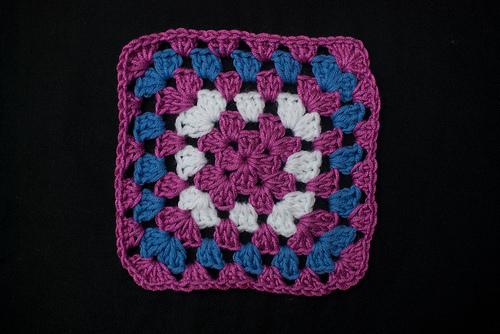 comments powered by

Disqus