Richard has been subscribing to Fully Charged for a while now, and we're considering an electric car as a replacement for our current Fiat 500 when the time is right. So, today found us driving to Silverstone to attend Fully Charged Live.
Our first impressions of Silverstone were of mud. The approach to the car park was along a track full of potholes. The car park itself was a field. I had not expected that! Nor had I expected the number of cars in that car park. It was a much bigger show than I'd expected with probably double the number of people. And I realised there was a danger of being overwhelmed by it all and needed to focus my attention to get the most out of this opportunity.
We had a few things we wanted to achieve from the day. Ideally, we wanted to test drive some cars. As it turned out, we weren't the only ones, so we didn't get to do this today. But we've left details with the manufacturers so that they can get in touch with us and arrange one among more familiar surroundings. Still slightly sad that I didn't get to drive around a test track at Silverstone tho. Other than that we wanted to see the cars in real life, and learn more about the option of leasing a vehicle.
We attended one talk - a session titled "How to choose an electric car". This was interesting, but I didn't pick up too much new information which I hadn't already gleaned from watching a few Fully Charged episodes. It was good to see the number of hands raised for people who were at the show to consider their first foray into electric cars though. It felt like it wasn't just us on a fact-finding mission. I think we'll catch up on some of the other talks once they're released as videos on the Fully Charged site but today was mainly about seeing and experiencing for us.
We spoke to a couple of leasing companies and found out more. Right now I'm struggling to find a reason not to lease. So I think we will be pursuing that avenue.
We had a wander around the paddock and saw and sat in some of the cars on our shortlist. The main thing we noticed was how long some of these cars are. We have a parking space outside our house, but I don't think it could accommodate something the size of the Leaf. When we got back to the car park at the end of the show, the cars had thinned out a bit. I spotted a few of the vehicles on our refined shortlist and fortunately they had spaces next to them. So I parked the Fiat 500 next to them so we could get a real feel for their size in comparison to what we're used to driving. This confirmed our feeling that the Leaf was too long for us, but the Zoe and the i3 were both ok.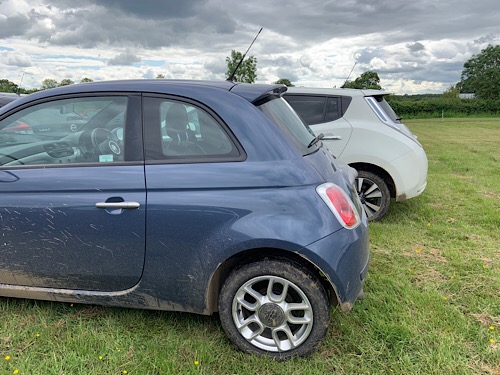 The organisers had laid on electric vehicles to transport us from the car park to the show and back again. On arrival, we were transported in an electric double-decker bus. On the way back, we sat in the back of a Tesla. A nice smooth ride. Again in a car that felt huge. Not the car for us but a real treat to experience.
So, overall, an event worth attending. We're not in any real rush to swap our car, but I think we may be in a position to make a decision and get ourselves organised before the end of the year, which feels quite exciting.
comments powered by

Disqus