Friends, Chinese ink paintings, Turing and Listening Post
Last week I took the opportunity of my last non-working Thursday for a while to catch up with some lovely friends in London and in between meeting them (one for lunch, one for dinner) I visited a few exhibitions. One at the British Museum and a few at the Science Museum, neither were really pre-planned, over my time off I'd visited everything I'd identified that I really wanted to see, so this was a much more free-form day.
The British Museum has a Chinese Ink paintings exhibition on at the moment, and I spent quite a bit of time being mesmerised by the detail and enormity of the Liu Dan work. Especially the dictionary (which is 81 " x 120"), which I thought was incredible. Well worth a look if you like this kind of thing.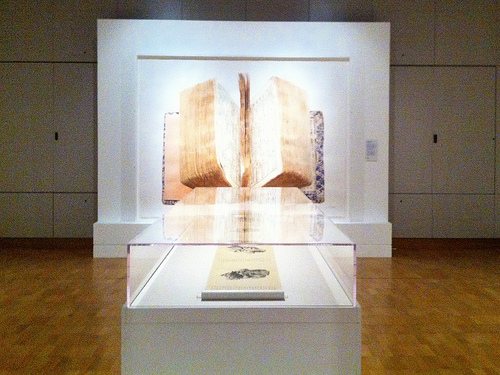 I then moved on to the Science Museum with no real plan in mind just the realisation that during my couple of months off I'd visited both the Natural History Museum and the V&A and so it seemed only fair to drop by the Science Museum too. On arrival I realised that the Codebreaker - Alan Turing's life and legacy exhibition had just opened. So I took a look around. It's not a big exhibition, and took probably 45 minutes to wander around and read the information but it is well put together. I was rather taken with the Cybernetic tortoise and hutch, and the showing of this video clip (I love the ending) to go with it. If you're in London with an hour to kill between now and the end of July, I'd stop by and take a look.
Whilst in the Science Museum I took a wander around as it has been many, many years since my last visit, and found Listening Post which I enjoyed spending some time watching and listening to, although I think I would have preferred it without the computer-synthesised voice element as it distracted me from reading the conversations. Having discussed it with a friend later, I think the level of enjoyment is related to the content being generated and displayed as if there aren't any interesting conversations happening within the sampled chat rooms then the content isn't going to be interesting. The conversation that caught my attention most was an oh so British conversation about class, and a discussion going on about whether Upper Middle Class and Lower Middle Class were valid classes or not.
So all in all, another enjoyable day with some interesting exhibitions to visit. But the highlights of this day for me were spending some of my last non-working time with friends - catching up in real life with real people, not just relying on emails, text messages or tweets but actual face to face conversations. This is something I've come to appreciate more and more recently.
comments powered by

Disqus