Cross-stitch iPhone case #2
Following on from the success of my first attempt at a cross-stitched iPhone case I decided to have another go. I spent an hour or so one evening sketching and considering different options and got to thinking about the shape and size of the iPhone and what older electronics it shared an approximate size with. One of the items that I kept when emptying my family home was a Commodore calculator from the 1970s and I decided to use that as my inspiration.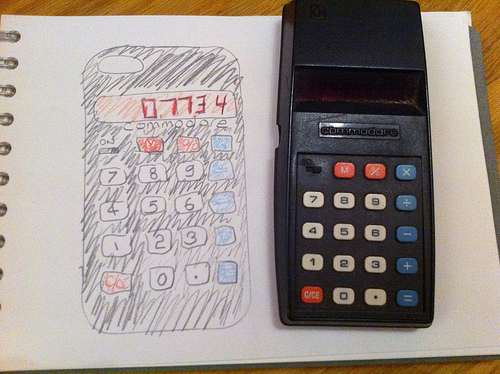 This project needed much more careful attention to detail than the last one, where improvisations were ok, so I created myself a template in google docs to work with and planned out the calculator design.
As with last time, I took myself down to the Brighton Sewing Centre to get some embroidery threads and ended up with the attention of all the staff as we stood with the colour chart and the calculator and determined the best matches.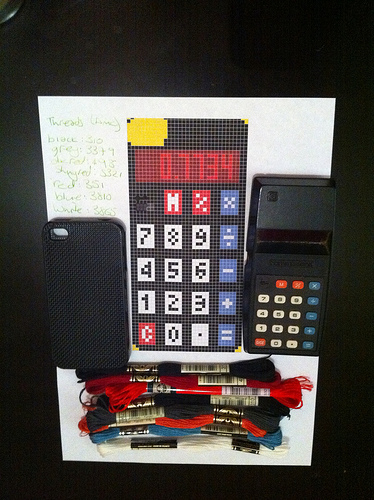 The colour choices and quantities were:
black (used for the background) : 310 x 2
grey (used for the on/off switch) : 3379 x 1
dark red (used for the background of the display) : 498 x 1
shiny red (used for the digits on the display) : 5321 x 1
coral red (used for buttons) : 351 x 1
blue (used for buttons) : 3810 x 1
white (used for buttons) : 3865 x 1
I initially attempted to do this with a tapestry stitch, but decided that the definition wasn't clear enough, and so had a major unstitchathon and started again doing cross-stitch. With the exception of the shiny red, all thread was used in 3 ply pieces (by splitting the 6 ply thread into half). The shiny red was used in a 2 ply pieces as it seemed to come out thicker.
I finished it this morning, and am pretty pleased with it. Here it is on it's own: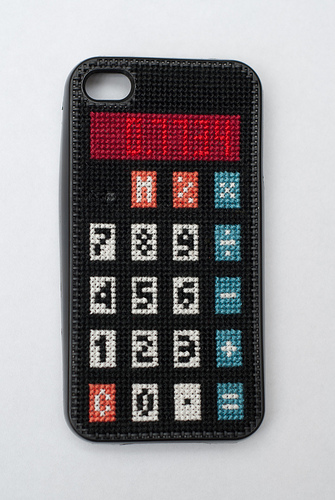 and here with the calculator that inspired it: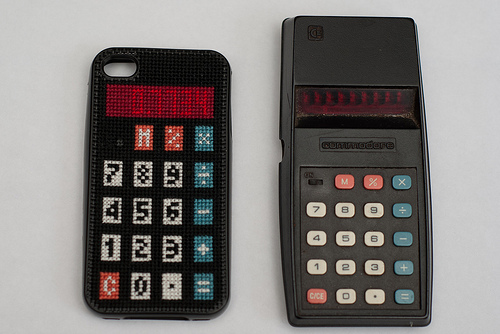 Things I learned whilst doing this case are:
threading a needle whilst on a train is nigh on impossible
sewing black thread onto a black background without adequate light hurts your eyes
designing things in google docs is a bit of an odd experience
I can't do this and talk at the same time - I end up being grumpy and having to unstitch. It's better for me just to put it away
doing things like this put me in a more creative frame of mind, and help me to think things through in a different way
I'm now planning to take a break from iPhone cases for a while, so will be trying my hand at something else. Watch this space!
comments powered by

Disqus