Crocheted circular cushion cover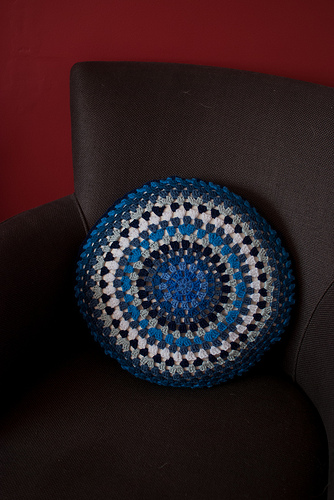 First of all an admission. This wasn't supposed to be circular. A while ago we were clearing out some of our garden space, and I found some sad looking cushions that had been protected from the worst of the winter weather but were looking decidedly sad. I removed the covers and found that the inners would be ok after a wash. So I decided I'd crochet covers for them. These were square cushion pads. I'd seen the squaring the big circle pattern and thought that I could adapt it to get it to the size I wanted, and so started.
Once I'd got to the end of round 6, when this pattern stopped, I realised that I had quite a lot more rounds to do. I attempted to adapt what had gone before, but soon realised that it wasn't working. So, I unravelled 4 or 5 rounds to get back to round 6 and had another look around the internet. I found this and this and consulted them both (they're pretty much the same) and used this as my pattern going forward. I got to round 17 and decided, with advice from Richard, to keep it circular. So that's what I've done. I ordered a lovely, feather-filled, 14" circular cushion pad from Design-a-Cushions which is pretty much the size that 17 rounds got me to, and started work on the back of the cover, following, round by round, the pattern of the front. I crocheted the two sides together using single crochet and have crocheted the pad into the cover.
The front of the cushion is miscellaneous DK blues, using up left overs, roughly ordered by quantity of yarn.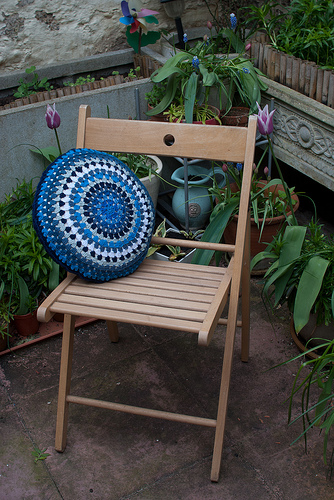 The reverse is all Sirdar Snuggly Baby Bamboo DK in Skittle, and has, sadly, resulted in me having to buy another 2 balls, and of course there's over half a ball left. So much for using it up eh!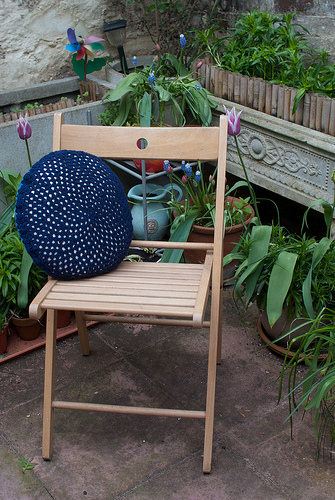 Overall, despite it not being what I originally envisaged it to be, I'm pretty happy with how it turned out. I just need to find somewhere for it to live.
I have changed my plans for the square cushion pads at least twice in the past few weeks. Once I've settled on one or two (I have 3 cushion pads to cover - 2 of which are the same size, one of which is larger) then I'll get started, but at the moment I can't even decide what craft to use - weaving, sewing or crocheting. Decisions, decisions!
comments powered by

Disqus