I managed to make a handful of gifts this year for Christmas. Here, in rough order of completion, are the details.
Weaving Project 35: A glasses case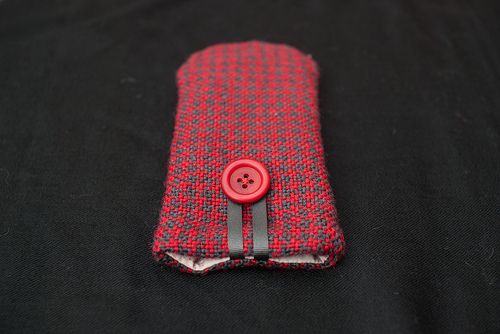 I'd been wondering what I could make for a friend of mine for Christmas. I've made her woven bookmarks before (1 and 2), and a drawstring bag, so I'd almost worked through my collection. The only other thing I can make with any reliability is a glasses case. It seems an odd gift I know, but I could combine hand woven fabric for the front and back, and some fabric that we bought together as the liner. It is a functional gift, and I feel sure that she'll appreciate that element of it. I know she liked the grey and red of the samplers I did a while ago, so I decided I'd use those again and this time would do a simple houndstooth pattern. This is something I'd had on my list of things to try at some point, so this seemed to be as good an opportunity as any.
I used the dimensions of weaving project 32 to guide me, but did 76 ends this time to ensure that the houndstooth was balanced. I again used the 12.5dpi heddle. Warping seemed quick and easy after the number of ends that weaving project 34 took, and I was done in about an hour.
The weaving took a couple of mornings, and was a nice simple pattern to weave. It was enjoyable to watch the fabric starting to form, and the pattern starting to emerge. I ended up with the second panel being a little bit smaller than intended so I need to be more careful with my measuring.
Just as I was finishing, and before I'd hemstitched the second panel, I had a loom disaster when the rear warp stick snapped. I could see it bending under tension but didn't stop to work out why. Big mistake. It snapped. I had to order a replacement from Alpaca Spinner which then turned out not to be the right size, and so I had to wait for a replacement to arrive in the UK. Tum di tum di tum…
With a bit of help from Richard, who was holding the warp as tightly as he could, I did the hemstitching and cut the fabric off the loom. Once I stopped feeling so sick, I gave the fabric a wash and pinned it out to dry. The panels, whilst pinned out, are 5.5" wide with one being just 8" long and the other being 8.5" long. I was aiming for both being 8.5" but when measuring the second panel on the loom I'd forgotten about shrinkage.
The sewing up was a bit of a battle, and actually I had an unstitch and restitch after I'd alegedly finished this because I wasn't quite as happy as I could have been. I'm still not delighted with it, but I'm pleased enough for it to go and be a nice gift.
A drawstring bag sized for chocolate buttons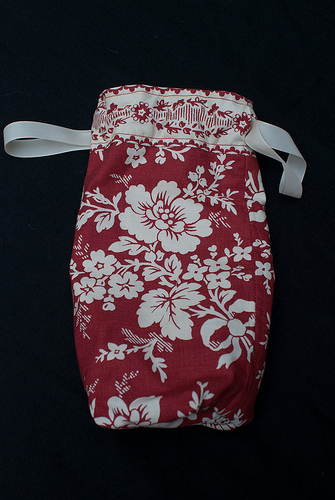 A friend I used to work with a few jobs ago is a chocolate fiend. I introduced her to the delight of Montezuma's chocolate buttons whilst we worked together, and so, predictably, every Christmas/birthday regardless of what else I buy her there is always a bag of buttons. I was at a bit of a loss as to what else to buy her, and in amongst her birthday present I'd popped one of the blackworked lavender bags that she seemed to be quite taken with, so I thought I'd make her a drawstring bag sized to take the bag of buttons.
I made use of a couple of pieces of fabric I'd bought at the Knitting and Stitching show and managed to get the front panels out of the same piece - using the striped part as the top section, and the flowered part as the main body.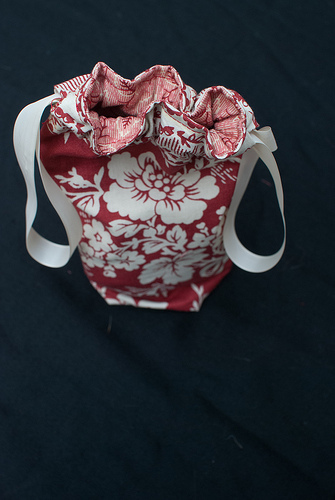 It all went pretty well and the seams are nicely aligned. I'm pretty sure she'll love it. My only regret was using ribbon for the handles as they seem a little bit flimsy.
A Brain Waves beanie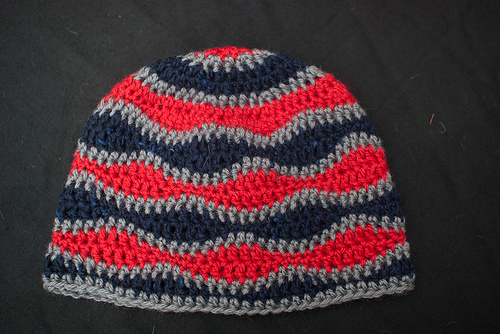 Richard had watched me make a few hats for myself this year and so requested one for him for Christmas. I took a look at ravelry and selected half a dozen or so patterns that I thought I could manage, that looked manly, and that could feature stripes (he basically wanted me to make a hat that he could replace this one with which we bought during our Big Trip in 2008 (here's the first photo of him wearing it in Montana)).
He chose this pattern and we headed off to our local yarn store so he could chose the colours he wanted. In the end we had two balls of Debbie Bliss Blue faced Leicester Aran (in red and gunmetal) and one ball of Debbie Bliss Donegal Luxury Tweed Aran (in blue).
It took me about a week, and I made full use of Richard knowing I was making the hat to measure it at frequent intervals. I made one deviation to the pattern and instead of doing a single crochet round with the grey yarn, I did half double crochet as this was the only way I could get the gauge to be about right at the start of the hat, and it seemed to make sense to keep this consistent through the rest of it.
I'm quite pleased with how it turned out, and when Richard tried it on before Christmas it seemed to look pretty good, and he seemed pleased. I hope it lasts as long and brings as much warmth as the hat it is replacing has done.
A dog treat bag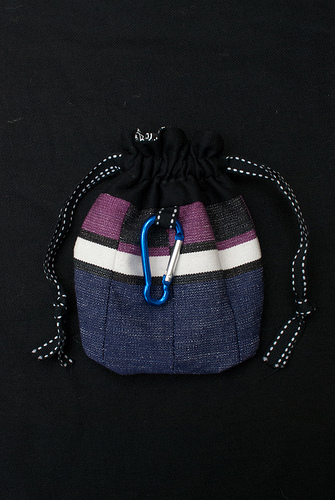 Richard has recently been using a plastic bag in his dog walking bag to store treats for the dog. This has caused a few delays between the dog doing something and her getting the reward. I thought I'd try and make him a simple dog treat bag.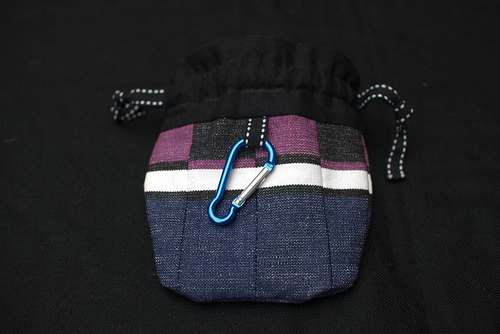 I used another of the deckchair stripe squares and cut it into 4 strips and then stitched them together using the symmetrical nature of the fabric to stitch it so purple met black all the way along. I then simply used the normal drawstring bag pattern with a minor deviation of putting a tab on the back to attach a clip to.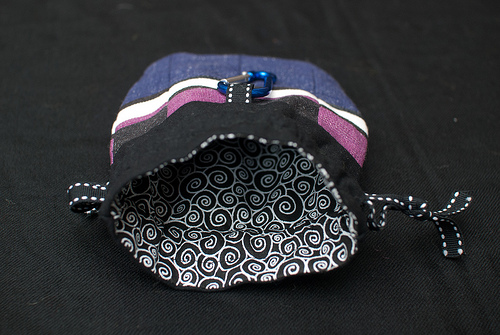 I used some of the black and white squirly fabric I bought at the Festival of Quilts in the summer for the lining fabric, and some plain black fabric as the top piece.
I'm really pleased with how this turned out. The stripes all line up. The slightly thicker than normal ribbon works well as a tab and as ties.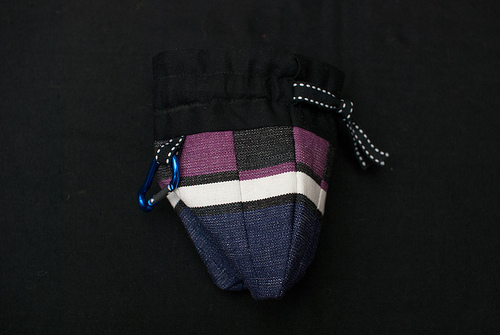 Within a few hours of Richard having it, the dog had already got her snout into the bag and taken a treat out, so it's as effective as every other treat bag we've ever had. That drawstring bag pattern has definitely come in handy!
comments powered by

Disqus