My Christmas stationery haul
I love nice stationery and have done for quite some years. But, ever since starting to use my Grandad's fountain pen I've become much more interested in stationery which uses nice thick smooth paper rather than stuff that just looks cute. For Christmas I received a lovely collection of stationery items. All are lovely. All will get used (although right now I'm not sure how and when with all of them!)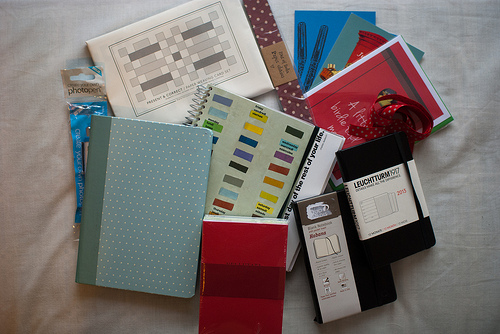 So the picture, from centre, then top right clockwise:
A notebook was bought by my Mum's keyworker on Mum's behalf for me (centre of the picture)

A box of mixed items from inkdrops (whose site at the time of writing is reporting a server error) which contained ribbon, paper chain paper, postcards and notecards and was bought as a one-off experiment rather than via the monthly/quarterly subscription service they offer. I decided that my Mum could buy it for me as it'd be a surprise for me as normally I get a cheque and buy myself things (Top right of the picture)

Items that I'd spotted reviews of during the year and had added to my Christmas list and that the lovely Richard bought for me (Fabriano bouquet notebooks, Quo Vadis habana notebook and Leuchtturm1917 Pocket 2013 diary) (Bottom right of the picture)

A notebook and pen were bought by my sister-in-law (the pen is tucked under the notebook at the bottom left of the picture and has a slot for a photo thus combining my love of stationery with my photography).

And notecards were bought by a friend who managed to combine my love of weaving with my love of stationery in a set of paper weaving greeting cards via presentandcorrect.com which is a shop I hadn't stumbled upon previously (Top left of the picture)
These should keep me out of stationery shops for quite some time!
comments powered by

Disqus