Custom cushion for rescued chair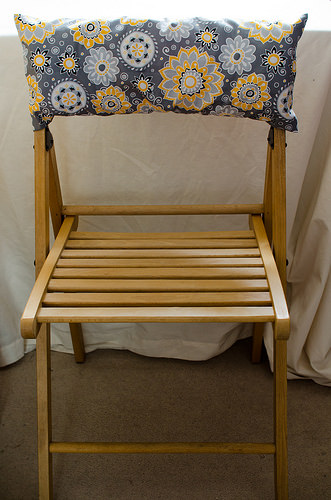 When I created my craft space I brought down a folding chair from the loft. My parents bought two of these chairs from Ikea years ago and when I emptied the family home I kept them just in case they came in handy. One thing I noticed when I tried it was that the back of the chair had no cushioning. And so it made my back a bit sore when I had the extra force of my loom in my lap. I experimented with various cushions but they were all a bit deep. Time to create.
I had some batting left over from the quilted sofa cover and it was the exact width of the top of the chair. When folded over it was a pretty decent depth. Not deep enough to push me too far forward. But providing enough cushioning to make it more comfortable. That was the padding sorted out.
The decoration in our spare room (my craft space) is pretty simple. It has warm pale brown coloured walls. A brown futon (though you can't see that any more as I've covered it in a burnt orange throw). Lots and lots of bookshelves. And a Mark Rothko print on the wall. The name of the print is "Untitled (Orange and Yellow)". And it is exactly those colours. I'm currently weaving a cushion cover to match the print. So these are becoming the colour theme for my craft space. When I looked in my stash of fabrics I found a matching fat quarter that I'd been looking for a great use for since Christmas. And I had some matching grey fabric in there too.
So I got to planning. I sketched out how I thought I could get it to attach to the chair. The back has a hole in it, so I figured I'd use some straps and tie the cushion on.
And so to sewing. I made the straps to be about 3/4" wide which meant that turning them right side out was a bit of a challenge. Fortunately, another thing I rescued from my family home were some of Mum's knitting needles and so I used a thick and blunt one of those.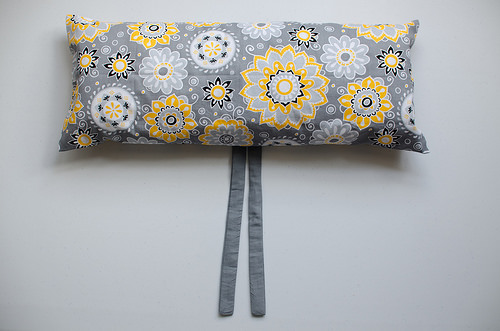 I sewed the straps into the fabric (and got them in the right place, and the right direction first time!). And then wiggled the seam down so that it was in line with the hole. The seam runs along the middle of the back panel, rather than at the top or bottom. And is thus pretty much invisible when in place. I sewed one end completely, and the edges of the other end before finally turning it right side out and forcing the batting in. Having got it looking like a cushion all that remained was a few inches of ladder stitch.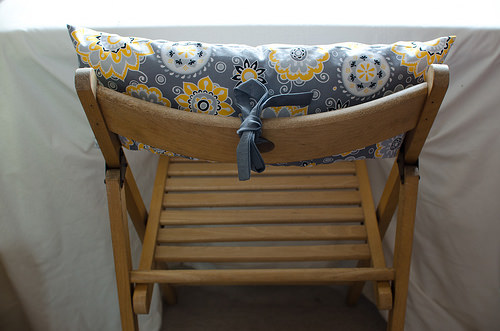 So far it is holding up pretty well. I'm not sure how long it'll last for as I'm sure at some point the straps will separate from the fabric. But at the moment I'm pleased with it. I love the fabric. My plan worked without deviation. And I'm even happy with quality of the sewing. Result!
comments powered by

Disqus