A padded camera bag and a woven phone case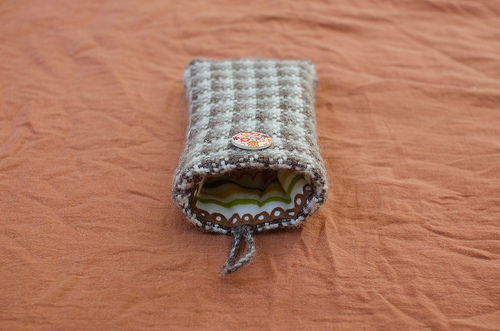 I decided over Christmas that a padded drawstring bag would work well as a camera bag. Usually my camera just ends up being stuffed into the bottom of a normal bag, and I thought that maybe some additional protection wouldn't go amiss. So I ordered some of this amazing filmstrip fabric. I cut the filmstrip fabric, and reached for the flannel I'd bought and realised that there just wasn't enough flannel in a fat quarter for the size the bag needed to be to take the camera body and my largest lens. So I ordered some more, different flannel. By the time that arrived, my camera had stopped working and I'd had to replace it. With a different sized camera body. Oh, and the largest lens no longer works either. Brilliant! Ho hum!
I followed the usual pattern, but added a piece of batting to the main film fabric outer to give some padding. This worked well except it made it a little bit trickier to get the gusset corners to line up as it was more difficult to feel the right spot. So the corners aren't quite as tidy as I'd have liked.
The second project was another phone case, again using hand woven fabric as an outer and a flannel lining. This time I used some undyed WYS bluefaced leicester DK in ecru, light and medium and did a simple 2 x medium, 2 x light, 2 x ecru pattern. Which I love. I've already started thinking of different ways I can use this pattern again and again. I love the shadow effect of the two browns, and the way that the ecru stands out against it. The wool itself is lovely to work with too.
This was a sample project for something larger, but, as I've said before, I really like to make something usable out of my samples. I made the new phone case using the same principle as the first one, only I made it a little bit longer so it actually covers the top. It's really soft, and I kind of wish it was larger, or I was smaller, and I could snuggle into it as a sleeping bag. I've been using the case for a few days now and it is really lovely. Except that the wool is pilling a bit already. The project I have in mind won't be affected by this too much, but it does make me wonder if there is anything I can do with my sample squares to work this out ahead of time.
comments powered by

Disqus