Last Sunday a friend and I spent a few enjoyable hours wandering around the Brighton Made fair.
I spotted a couple of the weavers that I'd seen last year as well as another one, Lizzie Aitchison, who I had a lovely conversation with. Her stuff was very accessible, and affordable, and she had some lovely gadget covers (kindle, iPad etc). I briefly considered buying an iPad cover but the knowledge that weaving project 16 is still in pieces waiting to be sewn together prevented me.
Both Jules and I were taken with the work of Sarah Culleton and were intrigued and fascinated by her use of old postcards as fabric designs.
There were a lot of glass designers there this year, and quite a few of them had produced matt finishes by sand blasting the glass, something I hadn't really paid attention to before. Some of these were really impressive, and if I wasn't so clumsy I'd probably have found a home for some of David Pascoe's beautiful work in my home.
The work by Jin Eui Kim was amazing, incredibly wonderful stuff, playing with light and shadows, texture and ceramics. The larger pieces were wonderful, but again, my clumsiness, along with a lack of suitable lighting in my house, prevented me with parting with my cash.
I did buy something though, I bought a beautiful, ceramic tea light holder from Harriet Caslin. When the candle is lit the light shines through the paler grey curves. I think it is beautiful, and the colours (the photo below doesn't do it justice but it's a greyish/blue colour in reality) remind me of the collection of blue ornaments Mum had on a divider unit in the hallway of my family home. It is nice to be reminded of such things in such a beautiful way.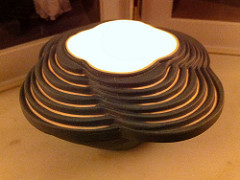 An enjoyable afternoon, inspiring too.
comments powered by

Disqus