Brick patchwork cushion cover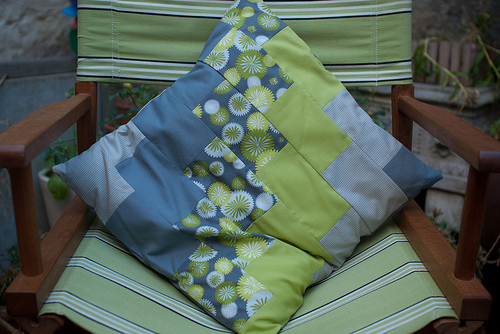 Some months ago I spotted a layered brick patchwork cushion cover that I liked the look of. I still had two cushions that needed covering, and some of the beautiful green, grey and white flowered fabric I'd used for the drawstring bags left over. So, I figured I'd give it a try.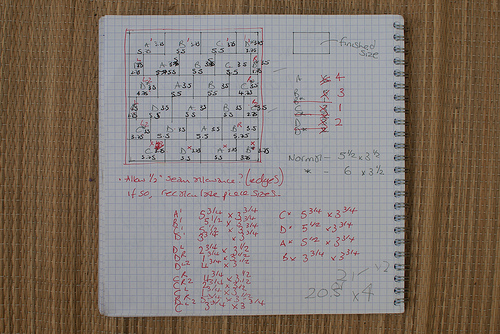 I decided to use four different fabrics. This was partially because I didn't think I had quite enough of the lovely fabric to do it with only three. I wanted to have the highlight piece running diagonally from top corner toward the bottom left corner. I planned it out and came up a chart showing how it would work and calculated the various dimensions aiming for an 18 inch cover with a half inch final seam allowance.
After preparing all the pieces I sewed the individual pieces into the horizontal strips starting with the top strip. This went reasonably well but my pieces weren't all as square as they could have been. I decided that I could live with this and would try and straighten things up as I went. I did three of these horizontal stripes on the first occasion sitting in my back garden enjoying a sunny evening. I did the next three a few weeks later and even had time to start stitching the stripes together using the highlight fabric as a guide and making every piece of it start 2 inches further to the right that the one in the row above.
I then prepared the grey back panels, planning for a 4 to 5 inch cross over on an envelope styled back. I ironed the edges as straight as I could before overstitching in a lime green cotton for contrast. Then it was just a case of assembly. I straight stitched and then zig-zag stitched each side. I used a chalked line to ensure that the edges were as straight as I could get them. And after a few bits of remedial stitching, it was done to my satisfaction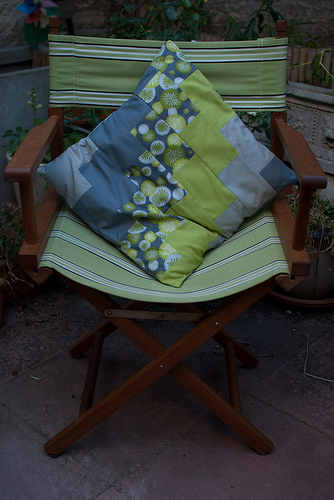 I think it is fair to say I'm delighted with how it turned out. As with other things I've sewn, it isn't perfect but it is pleasing to me and again I've learnt through making it. It is coloured to coordinate with our garden chairs so I'm glad that we're due to have a few more sunny days before I have to put the cover away into a cupboard until next summer.
Update
As requested in the comments
I want to see the back of this one too (as in, what it looks like, not getting rid of it)
here is a photo of the back of it.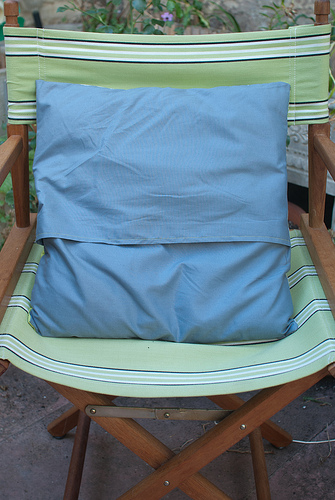 comments powered by

Disqus