Braun PixelBank - first impressions
I have recently bought a Braun PixelBank as a backup for my photographs whilst I'm on the move. I had a set of criteria which were:
Reads SD cards
Reads xD cards
Accepts Nikon Raw format
Works with a Mac
At least 40GB
I initially started looking at some of the portable storage devices and found an interesting article reviewing a handful of them. I initially was taken with the units with a screen, so that I could reassure myself that they'd been saved successfully, but I was finding it hard to justify spending an extra £150 for such a feature (which took the Nikon Raw format requirement away). After reading some more of that review I started looking for the "DataBank Digital Data Backup/Storage" but I failed to find one anywhere - DataBank isn't the easiest term to find in google. After reading some more reviews and comments I found a Braun PixelBank at Park Cameras retailing for a very reasonable £79.99. I ordered it on Sunday, and the couriers attempted to deliver it on Tuesday - it finally arrived on Friday after rearranging delivery.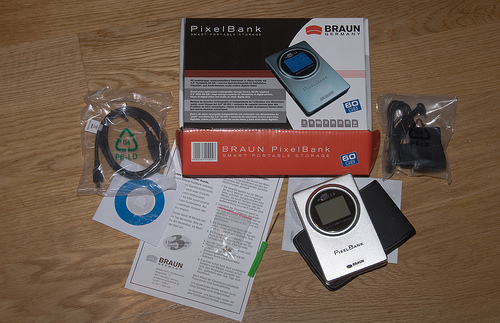 I unpacked the box and found some nice features - they've included screws and a screwdriver so that you can change the hard drive if you so wish - it takes a standard 2.5" one. One disappointment was that the power supply has a European plug so an adapter is necessary. I couldn't find one around the house, so used the provided USB cable to charge the unit up initially. I left it charging overnight, to ensure it got a good solid charge, and when I looked at it this morning the LED had changed from red (charging) to green (charged).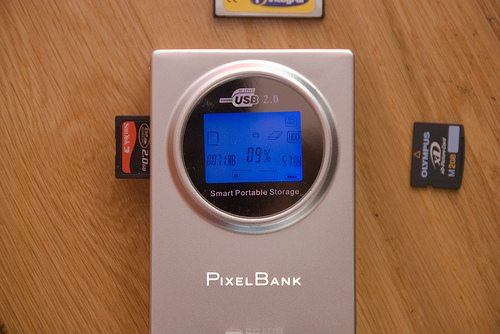 I took a selection of photographs on 2 different SD cards, and 1 xD card and put the cards in one at a time. Next to the power button there is a play button, and pressing this starts the copying process. There is a % count displayed whilst the copying happening, ending at 100%. If you leave the machine to do this, don't be surprised if it turns itself off after doing the copy, it has an auto shut off to protect battery life. Displayed on the right of the unit is the remaining capacity of the unit. It is probably worth doing some mental arithmetic to validate the saving by checking that the capacity is decreasing as you'd expect.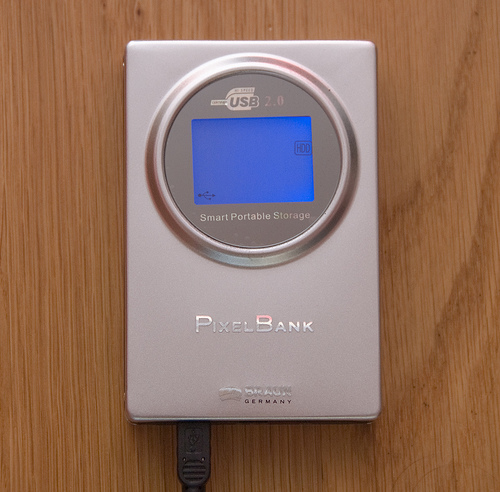 Attaching the PixelBank to the computer via the USB cable results in the screen lighting up, with just the HDD and USB signs being displayed.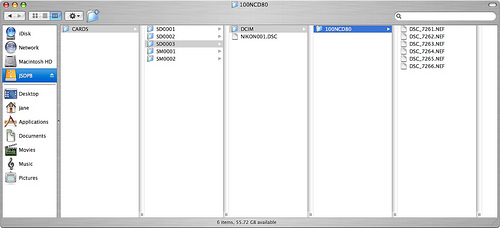 Opening the drive in Finder, shows a top level folder named CARDS. Under this is a folder for every card copy that has been done. The folders are prefixed with SD for an SD card (presumably also for MMC and MS), SM for an xD card (presumably also for SM) and according to the manual CF for CF or MD cards. The cards are then numbered sequentially, so the first card is SD0001, the second SD0002 etc. There is no different naming conventions for different physical cards - I copied my first SD card twice (SD0001 and SD0002), and the second one once (SD0003). The data stored is a full copy of the disc, so includes any extra files that get stored by the camera (e.g. NIKON001.DSC for my Nikon D80).
So, there ends the first impressions. I'll add more thoughts as I use it and rely on it more.
comments powered by

Disqus