BPB: A Wednesday afternoon adventure
Today, I had my first afternoon off as part of my newly reduced hours to help my "Get Inspired, Learn Stuff, Photograph more" mission post holiday and dConstruct. As it is BPB and there are loads of exhibitions to go and see, I thought that this was an excellent way to spend it. So, I did. I'd planned to see 5 exhibitions, and instead, I think managed to cram in 7.
So, in chronological order, I saw:
Amongst these are some very different exhibitions, ranging from a handful of photographs in the window of a gallery, to an installation in The Open Market, and including several more in a more traditional and standard format.
The Bright Nights exhibition features work from Jean-Luc Brouard, André Lichtenberg, Andrew Ford and Alex Bamford and features the kind of photography that appeals to me, after-dark, low light and moonlit photography, so it was an obvious choice for me to fit in. The installation is in a unit at The Open Market, and is a projection of photographs onto a screen which is viewed through holes in a shutter (see photo below). The photography is excellent, and well executed, and the installation is definitely worth a visit.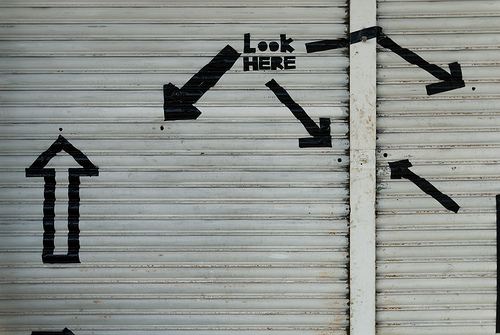 As I arrived at the Phoenix Gallery to take a look at Closer, Stuart Griffiths, the photographer was just finishing a talk to a group of students, so I stood around and listened, and heard some of the Q&A part. His photography was pretty raw and moving, and is described on the Phoenix Gallery site as
Closer is Griffiths' first solo exhibition and includes two bodies of photographs: the first produced between 2003–2008, the second during the late 1980's and early 1990's. These photographs explore Griffiths' personal feelings towards war and conflict, and respond to the unseen consequences of the ongoing campaigns in Iraq and Afghanistan.
This is a real stop and think exhibiton.
But probably the most impressive set of photographs for me, were those of Jamie Stoker, amongst the Transmission project in the Old Coop Building. I loved his Bright Lights, Big City series, finding the portraits to be beautiful, well lit and neatly composed, but it was the Park Life project that really impressed me. This project follows the idea of taking a portable studio set up out to Stanmer Park and taking portraits of the people he found, including both the temporary studio and the nature in the resulting photograph. They are just beautiful, and I would recommend taking a look at them.
Sample photos from the Park Life project from Jamie Stoker, reproduced here with his kind permission

Whilst wandering home I popped into Add the Colour to look at the exhibitions that I was too busy talking to really appreciate at last nights talk. It really is a great place to stop, and while away an hour or two, talking to fellow photographers and for me to let my overloaded senses return to normal.
comments powered by

Disqus