A blackwork drawstring bag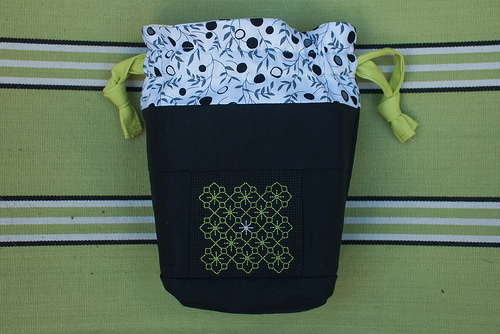 Yesterday I paid a visit to a friend of mine who has been having a bit of a tough time of late. As well as taking some treats, I thought I'd make her something. I've made things for her daughter before, and I've made her a birthday card, but this is the first time I've made her anything substantial. I still had a couple of pieces of blackwork left, and decided that this was the perfect opportunity to see how a piece would work as the centrepiece of a drawstring bag.
I followed the usual pattern for the bag and decided that I'd go for a plain black back and a black front — with the blackwork on it.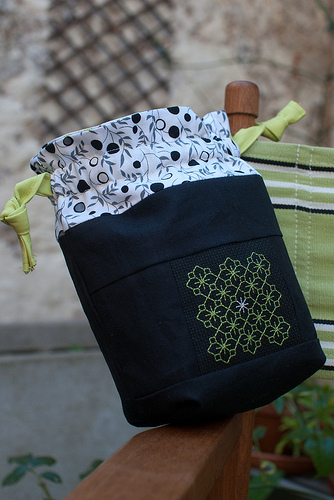 The fabric for the lining was an obvious choice. A few months ago I was looking on etsy and seeing what fabrics were available. Amongst the ones I spotted was this — Ed Emberley's sheep for Cloud 9. As she has a sheep related surname, and recently discovered Ed Emberley due to one of my blog posts I bought some and had it stored in my stash with the intention of making something with it for her/her children at some future point. Once I'd decided to make her a drawstring bag, this fabric was a must and everything else had to work around that. For the channels and top section I thought that some black/grey/white fabric would be a good transition from sensible black to silly sheep. I chose green for the drawstrings as both the grass with the sheep and the blackwork feature a lime green colour.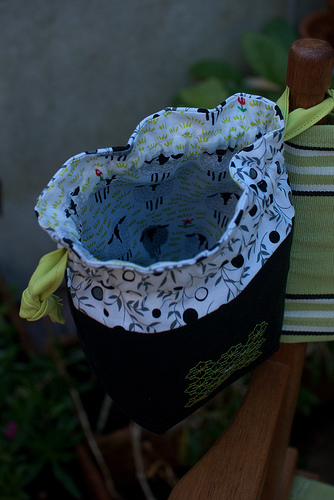 It all went according to plan, and for the first time ever the bottom seams of the bag totally line up with each other. This actually elicited a small whoop of joy from me. Fortunately there was only me and the dog to hear it, and the dog pretty much ignored me.
I'm really pleased how this has turned out — it is a good combination of sensibleness and silliness. I got to hand it over yesterday, and it raised a certain amount of delight at the sheep fabric. So, all went rather well!
comments powered by

Disqus