Tuesday 2nd - GoodGym #8
Tonight's task was a short walk from our meeting point so I decided to run a less direct route from home to get a little more running in. Our task was destructive gardening - removing weeds, dead poppies etc - which is something we're very good at 🤣
Our fitness challenge was running based to compensate for the closeness of the task. So, Helena, had us run along the seafront and then fartlek our way back - running hard for one lamppost and easily for the next. Not too dissimilar from what I tried last Thursday. Only with more of the harder runs. I couldn't keep it up for all of those hard sections so ran at my own pace, but with Helena for company as, again, she chose to stay by my side. GoodGym people are kind people.
Thursday 4th - NRC: A run with Sandy
Another Nike Run Club run. I'd never come across Sandy Bodecker and chose the run because the length was the closest to my target 39-to-40-minute run. In the event, I ran the full 41 minutes and heard a lot of people professing love and admiration for Sandy. A great accompaniment to my longest run to date - 41 minutes, 3.3 miles.
Saturday 6th - NRC: A trail run with Sally
I didn't go out for a trail run, but I thought, and hoped, it would have some good tips for when I feel strong enough to do so. I was out early as we had somewhere we needed to be later and so ran along the main shopping road watching people coming and going and setting up for the day. I then ran back along the seafront watching the various buses and trucks getting themselves into position for Pride. Lovely to start to see and run amongst.
And with that, I've finished week 2 of JuJu's magic running plan. So far so good.
Tuesday 9th - GoodGym #9
This week's task was a bit more destructive gardening based in Kemp Town. So another run up Edward Street to get there - which felt a bit easier this time. The run back down the hill is always fun! Another good task that was appreciated by the residents - especially the little lady who overlooked the very weedy bit of the car park that a few of us cleared.
Thursday 11th - NRC: Thirty Minute Run
It was a hot day and evening - still in the high 20s at the end of my working day. So instead of a fartlek run, I decided to go for an "easy" run and picked an appropriate Nike Run Club run. I headed to St Ann's Well Garden in search of shade before then making my way through Palmeira Square and Adelaide Crescent along the seafront.
I popped into Taj on my way home to pick up a curry and a chap declared that I was brave to "be running in this heat". I replied "Either that or stupid". It is a good way to end my working week and does seem to quieten my brain down in a good way.
Saturday 13th - NRC: Another Thank You run
We took the dog down to the beach for a low tide early morning paddle before it got too hot. Which meant I was up and around early for me on a Saturday morning.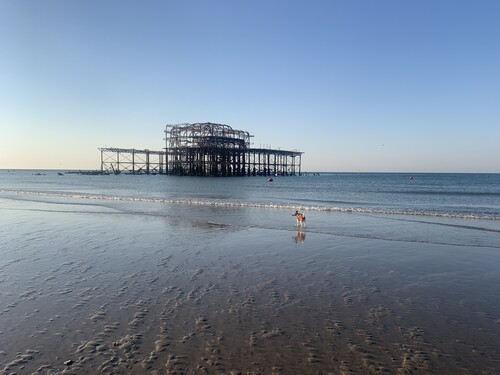 This was to be my long run for the week - 45 minutes. I found a Nike Run Club run - Another Thank You run - and used that. As I'd already been down to the seafront I already knew that it was getting warm already out there - 22 degrees before 9 am. So I ran down to pavilion gardens, Victoria Gardens, and the Level to start my run in shade. Then back towards the pavilion before heading along the seafront. Nothing much extra in the legs today and was relieved that I'd judged my time and distance well and the end of the run came at the traffic lights at the bottom of Preston Streets giving me an easy walk home.
Tuesday 16th - GoodGym #10
A new meeting point for me this evening so a longer run to get there. And a new task location for all of us. So we ran off down Lewes Road and up to Hollingdean up a long and relentless hill. I couldn't manage to run all the way up it and had to walk a bit but there's no shame in that.
Another gardening task this week. It didn't look like there was much to do initially but as we got stuck in we cleared bags of weeds again.
I had an appointment after GoodGym so Richard (and Skitters) came and picked me up from the task. So I didn't get to run downhill after all my uphill battles!
Thursday 18th - NRC: Breaking through barriers
An end of the working week, post-work run. And a run which meant I'd finished running my commonwealth(ish) marathon. It took me 10 runs. Happy with that.
Tonight I ran to St Ann's Well Garden, through Palmeira Square and Adelaide Cresent and on to the seafront. I ran to the end of Hove Lawns and then did some fartlek runs back using the lamposts again. This time I did 2 lampposts jog and 1 lamppost run and managed to maintain that all the way along. That's the first time that I've managed to find a pattern that meant I could complete it all the way. So happy with that as well.
Saturday 20th - NRC: Mindful Miles
My long run of the week - a run of 50 minutes. A chance to combine a couple of routes I've done before as shorter runs. I headed off to Queens Park (up Carlton Hill), and saw a tail-less squirrel, before heading down to the upper part of the seafront out to Black Rock before heading back along the boardwalk. As it turns out this route should have been a 55 or 60-minute run because my time ended before I got to the pier - so I added 3 or so minutes to get that far. Planning routes for the time they will take, so once I've finished this plan I'll switch over to a distance-based one. I took it slowly all the way around so there were no speed records today, but this was about time not speed. And I managed what I set out to do. An enjoyable NRC accompaniment as well, one that I'll revisit another time I do a 50-minute run.
Tuesday 23rd - GoodGym #11
After a day in the office, I got home with plenty of time to change and head out again without having to break any speed records! A slow run down to Victoria Gardens to meet the others. And then on to the Community Kitchen for my first indoor task. We cleaned the place irradiating all traces of children's mucky hand prints. The Community Kitchen is a gorgeous place and has got plans for more budget classes as autumn arrives. There were a lot of us so we got finished early and headed back to Victoria Gardens for a HIIT workout to end the session. I then took a slow run home.
Thursday 25th - NRC: Run with Perri
I'm not sure if I can fit a long run in on Saturday, so I've done it on a Thursday instead. Another 50-minute run. This time around St Ann's Well Gardens and Dyke Road Park before back to St Ann's Well and finally home along the seafront. Some bits of the run felt good, and at other times my legs felt heavy. I stopped off at Taj on my way home and picked up a curry. Well deserved I reckon.
Saturday 27th - NRC: 30 Minute Finish Lines
We took Skitters to hydrotherapy this morning, which changed my routine a bit. It would have been a rush, and needed an early outing, to run before leaving home. So I decided I'd try something different and have an afternoon or evening run. There were clouds in the sky at 3ish so I thought that might be a good time to get out. I also thought, wrongly, that as it wasn't such a sunny day the seafront might be navigable. Not so much. So I spent some of the early part of my walk playing dodge the tourist. It was easier once I'd got past the i360 heading towards Hove. I made it to the end of Hove Prom before turning around and doing some fartlek practice running between the lampposts. Today I did a pattern of 2 lampposts slow, 1 lamppost fast, 1 lamppost slow, and 1 lamppost fast. I managed to continue this pattern all the way along the prom and got to the end before Coach Bennett counted me down and told me that the run was over. I ran hard today, deliberately so, and felt ok doing it. I was pleased to finish tho!
Tuesday 30th - NRC: Run with Bianca
GoodGym this week was going to be a bit more awkward to get to and so I decided that I'd skip it and meet a friend for a walk instead. But I still wanted to get my Tuesday run in so went out for a 20-minute lunchtime run. I headed to St Ann's Well Gardens and ran around the park throwing in a few hill circuits. It was warmer outside than it looked and I returned home the colour of a tomato! Quite an enjoyable run and I definitely need to build up my hill strength.
comments powered by

Disqus