A year with a fitbit: thoughts and numbers
I bought myself a fitbit at the beginning of last August. I bought it mainly because at work I sit next to a triathlete and I was feeling very under-exercised in comparison. I was, initially, mainly interested in getting some form of baseline figure of my day to day activity. I knew a few people with fitbits, and they seemed to like them and find them unobtrusive. So I ordered one.
Over the first month or so I was fascinated by the number of steps I did, and the number of floors I climbed. But, over time, this fascination fell away. At that point, if it had broken, I probably wouldn't have ordered another one as I felt I'd found out what I wanted from it. I'd learnt that my baseline activity — mainly based around walking my dog — was actually a reasonable level and I was content with this knowledge.
Then I had a health check, and was asked about how much physical activity I did — in minutes. Thanks to having the fitbit I could tell the nurse exactly how much I did. I hadn't given much thought to very active minutes before but looking at the numbers, I realised that I hit the recommended 30 minutes of physical activity on most days. This figure has now become the primary goal for me, I no longer worry about number of steps or stairs climbed, it's all about those "very active minutes".
I'm also on to my second fitbit unit. The first (an ultra tracker) fell to bits and was replaced (by fitbit customer services with next to no fuss) with the new one — a nice light piece of technology that spends a lot of time attached to the pocket of various items of clothing. In my current frame of mind, if it broke, I'd definitely buy a new one - I like that it tracks those all important "very active minutes" for me without me having to think about it.
So here is my year in numbers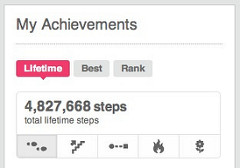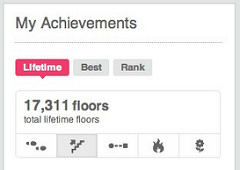 Despite no longer being as fascinated by the steps or floors numbers, there is no lifetime "very active minutes" score available, so I'll have to make do with knowing that over the past year I've walked 2,119 miles, taking 4,827,668 steps to do so, and climbed 17,311 floors.
comments powered by

Disqus