A visit to the Wool House
Yesterday, a friend and I visited the Wool House exhibition hosted by The Campaign for Wool in Somerset House.
I feel that I'm very fortunate because my friend and I have very similar tastes and also very similar mooching styles, we seem to naturally spend similar amounts of time looking at things. This means she is a joy to visit exhibitions with.
I had two favourite rooms, one for inspiration, and one which I wouldn't mind staying in. I don't think I could live with either of them, but I'd like bits of them to surround me.
The inspiration room was the Modern Room by Anne Kyyrö Quinn.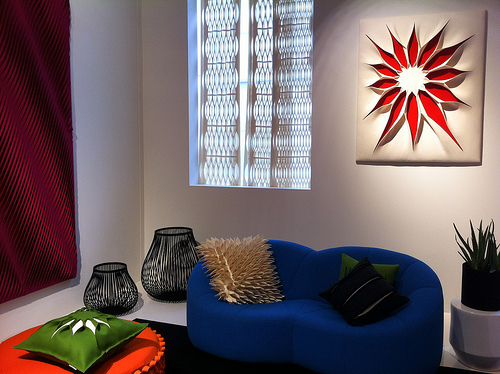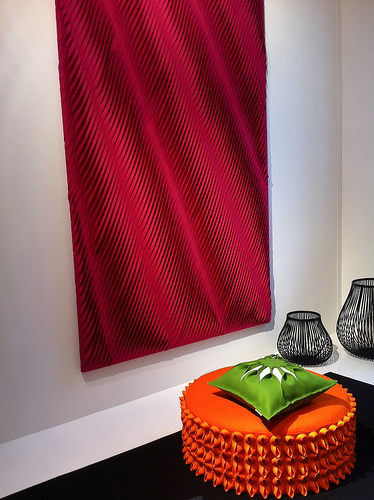 The majority of the items were made from folded and shaped wool felt, and the colours, shapes and textures were delightful. I could imagine having one piece of it in my home, but I can't imagine having a room full. I think I would find it hard to live peacefully with. As a display room, however, it was lovely.
My other favourite room was the Bedroom by Kit Kemp. I don't have many photos of this room - the light wasn't great - but it was elegant and beautiful. Her work is often used in hotels, and I can only imagine how breathtaking it must be to be shown to your room and to find it looking like that. Using such beautiful and vibrant colours embroidered onto simple coloured wool works so well and looks stunning.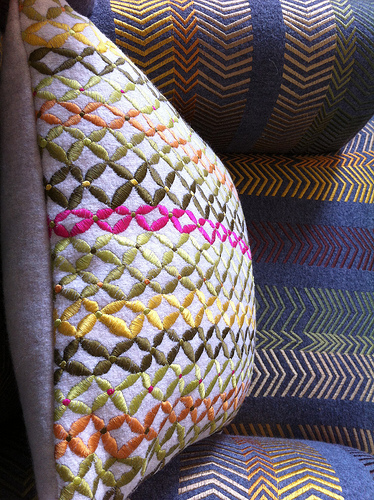 Obviously I dragged my friend to the studio where Jason Collingwood was weaving a rug on a floor loom, and where there was a smaller, table loom set up by the Handweavers Studio and Gallery which had been used to make some lovely, textured weaving.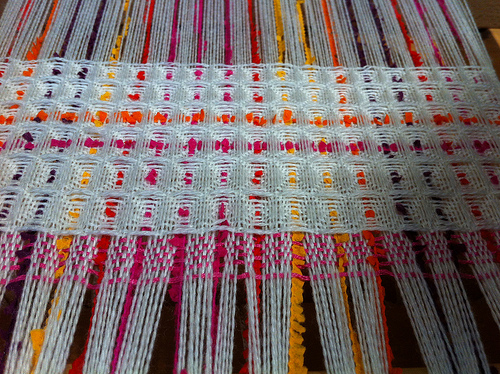 There are a few more photos here.
One thing that struck us both was that there was no opportunity to spend any money, despite there being displays of wool from Rowan and threads from the Handweavers Studio and Gallery. We had to take ourselves off to John Lewis and Liberty to get our craft supplies purchasing fix, and may also possibly have indulged in a scone, jam and cream whilst we were there!
The Wool House is on for another week, and is well worth an hour or so of your time. If you work nearby, it could probably even be tackled quickly in a lunch hour.
comments powered by

Disqus