When I decided to start a Try Something New intention for 2020, I hadn't anticipated that one of those new somethings would be a birthday in a lockdown situation. But it was something new, so when I do my end of week review, I shall include it, and link to this. I don't expect to, or rather I hope never to, have another birthday when we're in lockdown due to a pandemic. I thought it would be interesting for the future me to make some notes about how it was. These are they.
As March turned to April, it seemed unlikely that we'd be out and about by my birthday and so I had a think about what, in the circumstances, a good day would be like.
The highlight of my weekend days is my walks around the woodlands and park at Withdean. So that seemed like a good thing to start the day with. It's a bit tight to attempt that while also doing an 8-hour workday and I didn't want to feel rushed, so I took a flexible half-day holiday. By flexible, I mean that I took my half a day at the start and end of the day and worked the middle bit. That allowed me to put other things in place at the other end of the day as well.
My birthday celebrations got off to an unexpectedly early and tasty start when Metrodeco turned up with afternoon tea for two on Saturday. This was a gift from a friend and is especially appropriate as last year, that's where a few of us gathered to celebrate my birthday. Not to mention that she and I have enjoyed afternoon teas together in several Brighton establishments. It was an excellent spread and a total surprise, and I enjoyed every bite.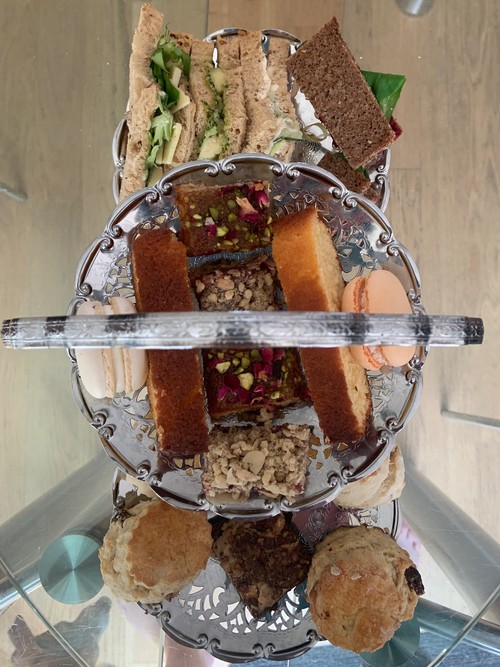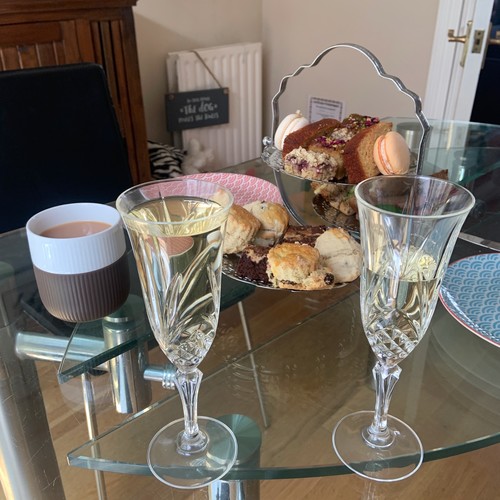 On Monday, one of the lovely choir ladies called around to drop off a card as part of her run and stayed for a, appropriately socially distanced, chat. It was lovely to catch up with her and hear how she and her family were getting on. It felt like a total treat.
My birthday itself started, as I'd wished, with a lovely walk in Withdean. The bluebells are still out. The wild garlic is appearing. The lilac in the park is at its pungent peak. While we were walking, we saw some people heading towards us so ducked off the main path to let them go past. They thanked us, and we realised that we knew each other through the tech community, and so had a brief, appropriately social distanced, chat. Again, lovely to connect with people even for such a short amount of time.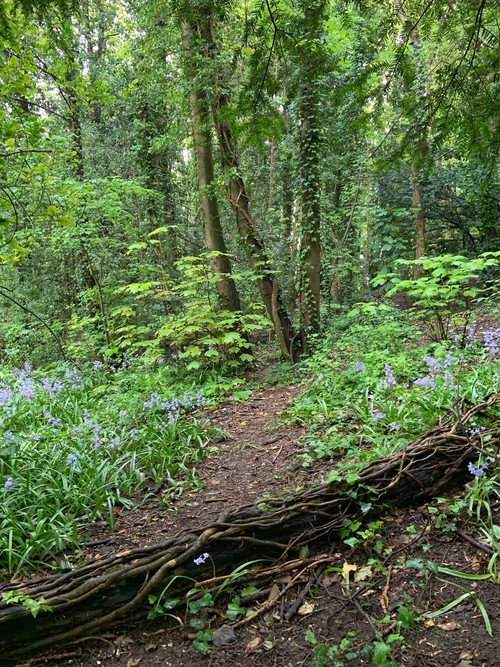 A friend had messaged me a few weeks ago to say that Julien Plumart are delivering via Deliveroo. I made a note of this and over the intervening weeks became convinced that this would be an excellent birthday treat. So that was my birthday breakfast, lunch and cake sorted. This was a great decision as it turned out. Julien Plumart has always been a treat in my eyes, and we made the spread of tasty treats lasted several hours.
As I was midway through my wonderful almond croissant, the doorbell rang. A friend was standing a couple of metres away, having left some tulips and a card on the doormat. So there was another socially distanced chat. Wonderful!
I headed upstairs to my office room and did my 4 hours work, with a break for my tasty Julien Plumart lunch. Then we had a somewhat less celebratory task to perform - driving to the vets to collect drugs and a ruff for Skitters. She's damaged the skin between the claws on one of her front paws so after an email and telephone consultation with the vets we had drugs to collect.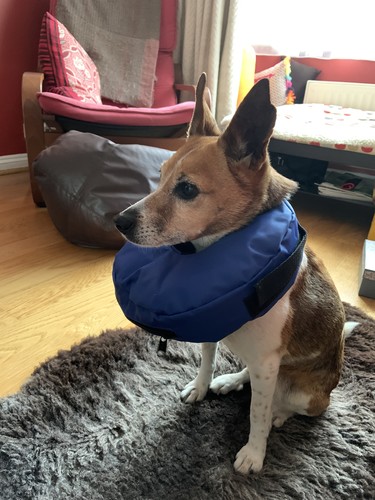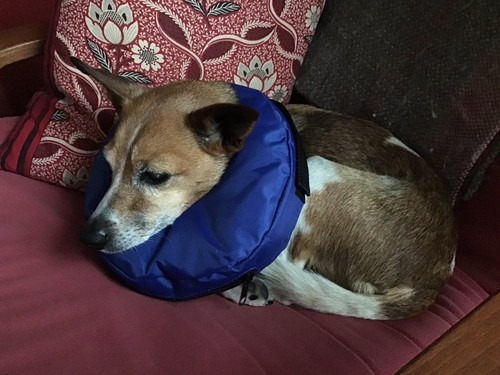 That done it was back to lovely things - the next being a FaceTime chat with a good friend of mine. As I hadn't opened any gifts by this point, time had run away a little, I got to open the gift she'd sent while she watched on. Look! It's a little nest of Shower mood melts. It smells gorgeous, and I know I'll appreciate each one of them.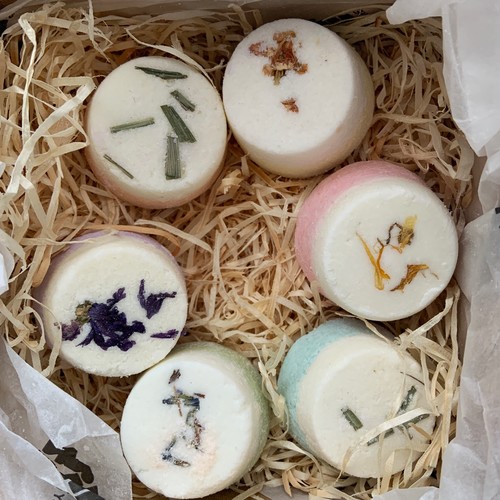 Next up was eating the lovely Julien Plumart cakes. We had half each, and both thought they were terrific. The pistachio eclair seemed to have a different combination of flavours in every mouthful.
I'm looking forward to being able to meet up with friends and head to the cafe and enjoy their tasty treats together when the time is right, and it is safe to do so.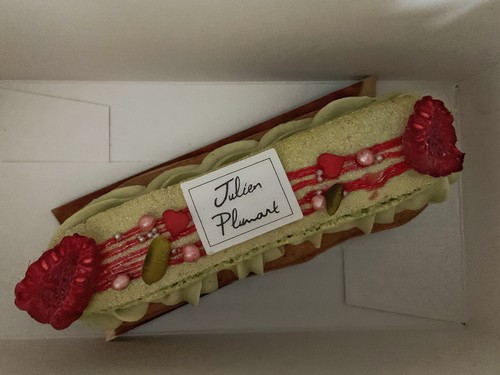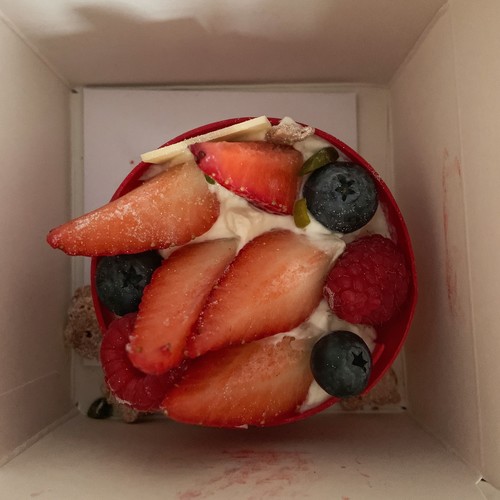 A few years ago, when I was exploring the Alexander Technique, I saw a local practitioner named Mark for my introductory lessons. I moved teacher after a recommendation from choir, but kept in touch with Mark and remained on his mailing list. When lockdown started, he offered free remote energy healing session. I had no idea what this was, but was intrigued and so decided to book one in for my birthday. I'm still digesting it to be honest. And it's hard to explain. But I did get to lie down on my sheepskin rug for half an hour and feel waves of energy traverse my body.
During the day, I also had three lovely conversations on the phone, and a family FaceTime chat, as well as many messages and cards, and some beautiful flowers.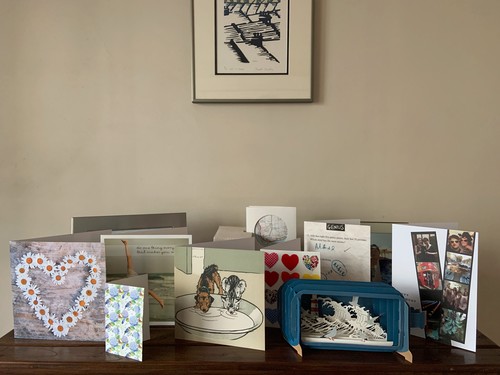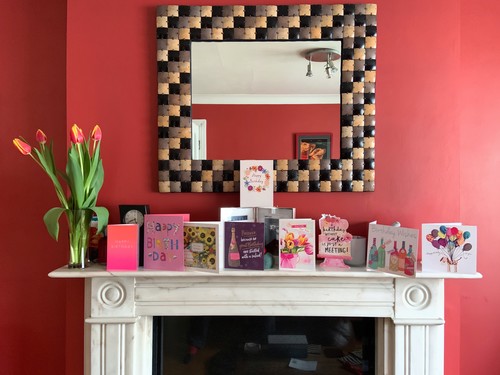 Dinner was from Moshimo, again via Deliveroo. A good selection of food - their vegan duck is excellent, all enjoyed with a couple of glasses of good white wine, and some Friday Night Dinner.
A very much more food focussed day than would be usual for my birthday. In all honesty, most of my days in lockdown are somewhat food centred. I feel I made good celebratory choices and enjoyed every meal.
My birthday continued into Thursday as a couple more birthday cards turned up, and then a few of us from choir had a catchup via Zoom. It continued even further into today when a beautiful beach scene of cactuses appeared - very serene.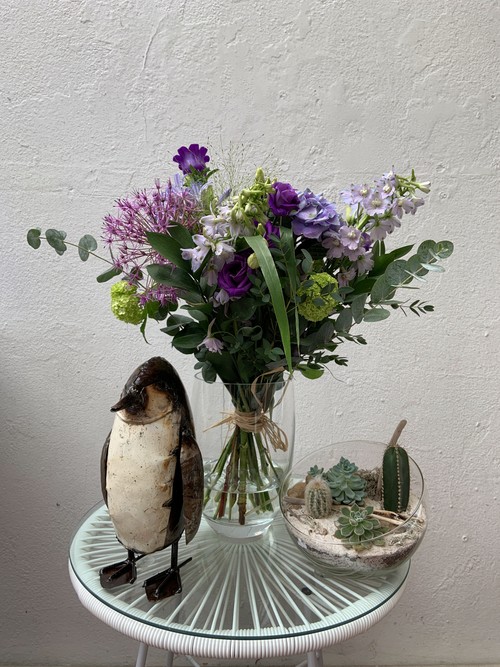 So a week-long birthday. A lovely birthday. I really appreciated every card, message, phone call/video chat. So kind that friends found time in such a weird situation to send best wishes my way. I feel fortunate and cared for.
comments powered by

Disqus