I posted the other week about my two country scarf and I mentioned that it was in danger of being "borrowed". Well it has been, with grace, given to the probable borrower. This did, however, leave me with a cold neck. So I decided to make myself a neck covering garment primarily suited for early-morning dog walking.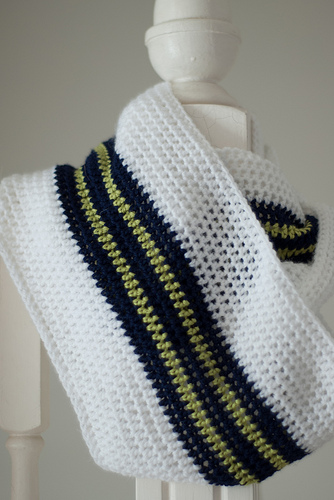 It is loosely based on this pattern I found on ravelry, and that's certainly where the idea came from from using up odds and ends of yarn. In the event I made mine much longer (225 stitches) - it passes around my neck 3 times - and a bit narrower - 24 rows of half double crochet.
I used up quite a lot of white Jarol Supersoft Baby DK (left over from crocheted baby blanket and which I actually really like as a cheap and default white yarn - and I've just discovered has other pastel shaded colour options too), the remaining bit of lime green Sirdar Snuggly Bamboo DK (heavily used in this blanket) and a navy blue (officially Skittle) Sirdar Snuggly Bamboo DK that I'd originally bought to make a scarf out of until I realised that all navy wasn't going to be much fun (and also used in the blanket). I used a 5.5mm (Size I) hook for it so that it would be quite loose (I have a tendency to crochet quite tightly at times).
I started it all off by learning how to do a chainless half-double crochet as this was something I'd wanted to try for a while and I figured that this was as good a time as any. This was also my first time doing half-double crochet, and I have to say I quite like how it looks. A nice neat stitch that isn't too dense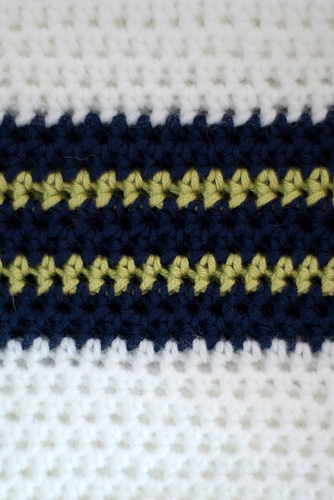 My pattern was:
8 rows of white
2 of navy
1 of green
2 of navy
1 of green
2 of navy
8 of white
a final white single crochet round
Ideally I would have interspersed the colours and white a bit more, and if I did it again that's probably what I would do - something like 3 x white, 1 x colour repeated. But, I knew that I wanted to have a bulk of white to finish with for a long train journey last weekend, and this design made that possible, so that's what I chose to do.
I've been wearing this on my early morning dog walks all week, and it's warm and cosy, is a decent size and I'm quite pleased with it. It's also possibly not a bad thing that making it has freed up a bit of space in my yarn stash ahead of a visit to The Knitting and Stitching Show tomorrow!
comments powered by

Disqus