On my London 2012 experience
I just found this in a drafts folder as part of the post-blogging-engine-move. It was obviously written between the Summer Olympics and the Paralympics. I'm leaving it mostly unedited.
---
Like many other Brits, I was prepared to be cynical and sarcastic and laugh at our incompetence to organise the Olympic games. Instead, I'm delighted, impressed and proud of what was put on.
The BBC coverage was impressive, with some excellent commentators, combining familiar faces from sports commentary - the excellent Clare Balding, the fantastic Chris Boardman, with experts in some of the less well represented sports - white water canoeing, basketball etc. The amount of options was wonderful, both on the standard channels as well as on the website, allowing me to select between the velodrome and gymnastics (I went for the velodrome every time), between water polo and volleyball, etc.
I also had the privilege to attend the women's semi-final basketball (Australia vs USA) at the North Greenwich Arena. These were tickets I bought via the 2nd round ticketing process having failed to get any of my 1st choices (velodrome and athletics). And it was a great experience. It was well organised, and pretty well attended, at least in the "cheap seats". The couple to the right of me had travelled down from Durham and this was their only event. The man seemed to know something about basketball. The lady didn't at the start but picked it up well and said she'd thoroughly enjoyed it. Me too.
But I did experience a hint of sadness. The sadness that I couldn't share my experiences with my parents. Dad would have loved to have experienced it vicariously - he did a few years ago when I went to see Hull City in the play offs at Wembley Stadium to see Hull promoted to the Premier League. Mum would have been all over enthusiastic whilst watching from home, screaming at the TV, making her support felt. This was always my childhood experience of any sporting event. Mum would have delighted in Super Saturday.
I've already bought some tickets for the Paralympics and am going to keep an eye on the site so see if any more come up.
---
Postscript
I did find more Paralympic tickets - and managed to attend a track cycling session in the Velodrome (awesome - we saw 4 world records broken)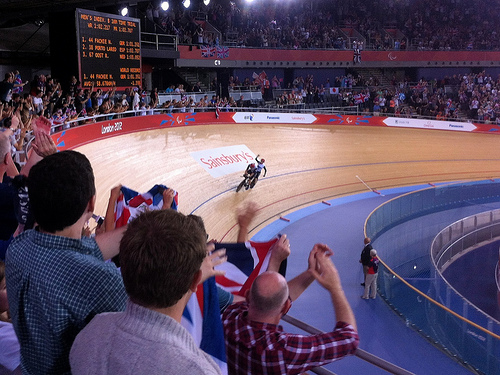 and an evening of athletics at the Stadium - both of which I'd wanted to see during the summer Olympics, and both of which were great experiences.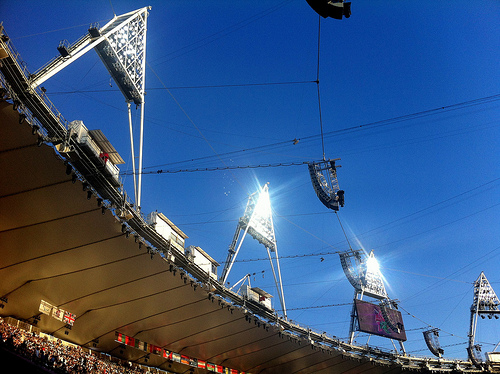 Mum's carers told me at the weekend that she had enjoyed the TV coverage - and that she, and they, had liked the postcards I'd sent her (both of these photos made their way to her as postcards via the bypost service) as it made them all feel more involved.
comments powered by

Disqus