Weaving project 46: Fabric for a phone case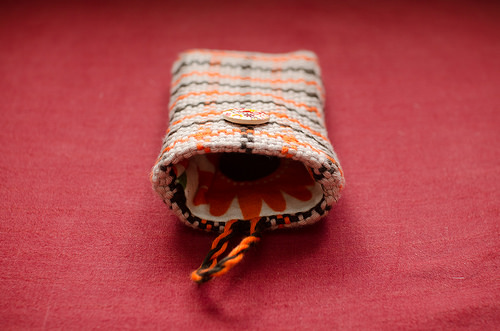 For Christmas, my lovely husband bought me a new mobile phone. It's a fairphone (on which more here). Obviously a new phone means a new case is needed. Which sounds like as good a reason as any to get weaving.
I've been trying to work out if I could make a shawl for Mum. She lives in a home, and the laundry there seems to be done on a single programme without regard for the washing instructions. This isn't surprisingly when you consider the logistics, but it does mean that the last time I saw this blanket I made her the wool had started to felt. I'd been considering whether a cotton yarn would stand a better chance and I'd spotted this at a reasonable price and so bought a few balls to give it a try.
I used my Dad's Black & Decker workbench, one of the bulkier items we brought back to Brighton when I emptied the family home, as a warping peg holder and it worked pretty well. Admittedly, this was a small project but it still offered a better level of stability than the patio table did. And it clamped the peg nice and tightly.
This was my first tartan style project, and I planned it using this to get an idea for what would work. I had a piece of flannel that I planned to use for the lining of the case, so I chose colours to work with that. In the end I did 4 x beige, 2 x brown, 4 x beige, 2 x orange, 4 x beige, 2 x brown etc for both warp and weft. This has resulted in a reasonably pleasing design.
I found that the cotton yarn feels a bit like string whilst working with it, which stopped the weaving experience being anything like as pleasing. It softened up on wet finishing but I realised that I prefer to work with things that start off soft as well as ending up soft. I'll use up the rest of the yarn sometime but I don't think that this is the perfect shawl yarn.
Lessons learned during the weaving process:
* the weaving process isn't as enjoyable if the yarn isn't soft and lovely whilst working with it
* the workbench as warp peg holder deserves further experimentation
* making a sample of this size is fairly quick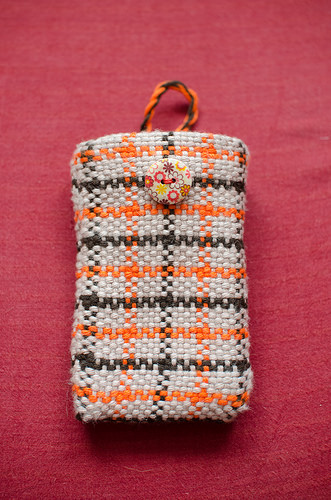 I waited until the phone arrived and then quickly stitched the case together (Richard said I couldn't use the phone until I had a case for it). I followed the same rough pattern as for the glasses cases using the woven fabric as the outer, and the flannel as the inner. I got a fringe twister for Christmas so I decided to twist some of the yarn together to make a cable for tying. And I bought some super cute buttons too.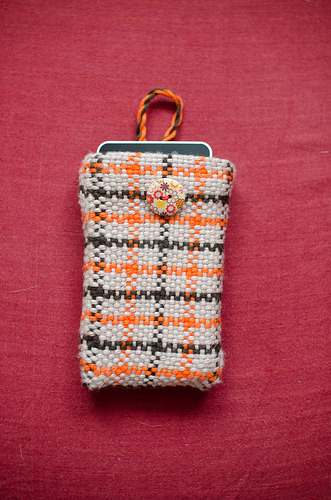 It isn't the perfect case — it ended up being such a touch short, and a bit bulky — but it'll do and should certainly add some protection. I'm already working on making the fabric for a second case but for now, this will do the job nicely.
comments powered by

Disqus