30yearsagotoday tweets as text messages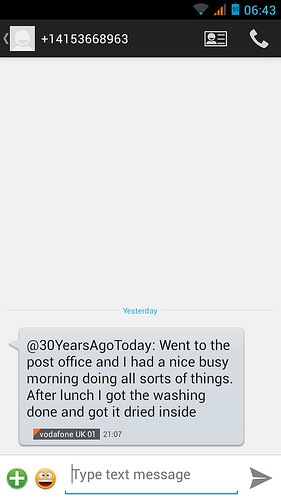 Two and a half years ago I started tweeting extracts from Mum's diary to the @30yearsagotoday twitter account. This was the selfish part of the storyline project. This was for me. To keep a bit of Mum's "voice" current in my life. I follow the twitter account, obviously, but I also had it set to text me. So, for the past 2.5 years every evening at 9pm I got a text from my Mum. Curated by me, but originally written by her.
About a week ago I got a text message from vodafone telling me that they were no longer providing a shortcode service for twitter. I hoped they meant that I wouldn't be able to text them, but that I'd still get notifications. Sadly this wasn't the case.
And I missed it. The fact that this little bit of Mum's voice appears as a text message has become really important to me. It makes it feel less automatic and forced, and more natural.
I like text messages as a communication method. I don't like making phone calls - I have to work up to making them. But text messages are generally delightful. I can send a friend a text message and know that they can pick it up and read and/or respond in their own timeframe. It gives choice. And they're small which means I distill what I'm saying into 320 characters (I admit I rarely distill into 160!)
So, to me, text messages are good things. I don't have many alert text messages set up. So I don't dread getting them. And having a tweet from my Mum arrive on my phone is a delight. If I'm out and about and I receive one in company I usually refer to it as a message from my Mum. It makes me feel more connected to her.
One of the things for me about coping with dementia is dealing with the loss of the person who was my Mum. For many years I didn't engage with her as much as I could or should because I was scared of losing the precious memories of who she was. I didn't want to replace them with memories of the transition period when she was angry, sad or depressed. Since Dad died I have started to learn to accept her as she is now. I enjoy spending time with her again. And I think I connect to her by the methods that are open to her - music, touch etc. But those daily text messages have become a bridge between the two different realities.
It felt a bit like Mum had lost her voice again.
I then remembered IFTTT (and so did Clive when I tweeted about Mum losing her voice - thanks Clive!). I have now got a recipe set up so that Mum's tweets, and only Mum's tweets arrive as text messages again. Thanks IFTTT. You've helped me rebuild a bridge. And given Mum her voice back.
comments powered by

Disqus