A second drawstring backpack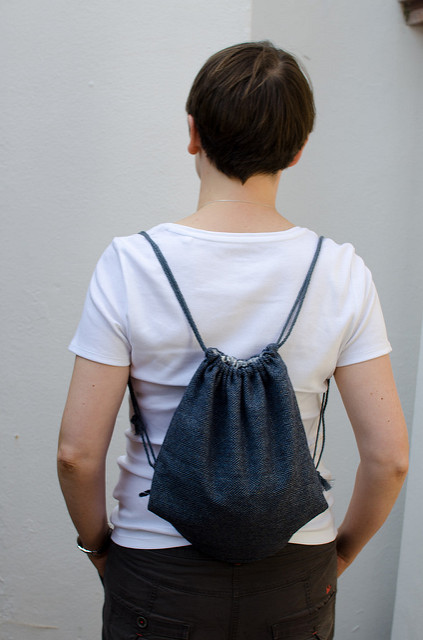 I'm still using the drawstring backpack I made last October day in/day out for morning dog walks. I noticed the other week that one of the tab attachments is starting to come unstitched. The one that the treat bag hangs off. I wonder how that happened! Anyway, I could mend it. Or I could make a replacement. I opted for the latter. I bought the fabric for it at the Knitting and Stitching show last year after all. It's just that the original has lasted a lot longer than I'd expected. Which is good. Obviously.
I decided that I'd like to line this one. And that the only thing missing from my current bag is somewhere to put my keys. So these were the only two design changes to the original.
When I measured out the fabric I discovered that I couldn't orient the woven fabric quite how I wanted - with lines vertically - so I've aligned them horizontally instead.
It took a couple of hours to put together and all went according to plan. The only complexity was that the lines look really well defined from a distance. But close up not so much. There was quite a bit of squinting happening.
All in all though I think it looks good. The lining makes it look more finished. And my keys will be able to hang from cord made using my fringe twister with matching threads. I haven't field tested it yet though - I'm going to wait for the current one to finally collapse first.
comments powered by

Disqus