My first crocheted item: The Simplest Scarf
I found this pattern a few weeks ago and thought it looked simple and achievable with my limited (4 week old) crochet skills, and what's more I rather liked how it looked. So, I decided to give it a go. I ordered 3 balls of Sirdar Snuggly Baby Bamboo Dk and got going.
It really is very simple - it is a well named project - and it's not much more complicated than doing a granny square. It is just two rows repeated time and time again. It doesn't need a lot of concentration - ideal for keeping restless hands busy whilst listening to podcasts or watching tv. In total it probably took me 8 - 10 hours to do so a pretty quick project, and I would imagine super quick if you're a bit more practiced with a hook.
I used 2 full balls for the length of the scarf, and then used my 3rd ball to make the fringing. I kept measuring the scarf against other scarves in my cupboard to try and work out what was the appropriate length and a full 2 balls seemed to be about right.
Here's me modelling it to give it some form of scale :-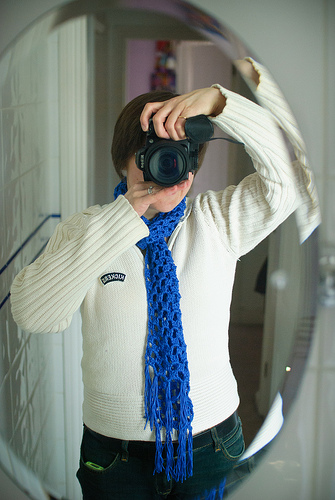 Overall, rather pleased with myself. I made something useful. Hurrah!
comments powered by

Disqus